Here's Why Manhattan's First Medical Marijuana Dispensary Isn't Giving Patients Weed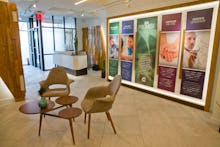 Mary Altaffer/AP
Almost two years after New York Gov. Andrew Cuomo legalized medicinal marijuana in the state in 2014, Manhattan's first dispensary, and several others across the state, opened for business Thursday — but they won't be selling any smokable weed. "We have spent billions of dollars in the effort to eliminate smoking, and it goes against all the wisdom of public health to turn our backs on all that we have done in this area," State Health Commissioner Howard Zucker said according to New York Magazine when New York's medicinal marijuana law was passed, making New York one of 22 states that have legalized the drug for medical purposes.
Read more:
One of the conditions of New York's medical marijuana law is that the drug can't be smoked, which indirectly means no physical weed plants allowed. Therefore, Manhattan's new Columbia Care medical facility, located on 14th street in Union Square next to a falafel joint, provides patients with oils, edibles and other non-smokable forms of cannabinoid, New York Magazine reported.
Those diagnosed with cancer, HIV/AIDS, Parkinson's disease, multiple sclerosis, intractable spasticity from spinal cord damage, epilepsy, inflammatory bowel disease, neuropathies, Huntington's disease and Lou Gehrig's disease are eligible for a medical marijuana prescription. Under Cuomo's orders, the New York Times reported, New York state dispensaries will stringently regulate who's eligible to enter the facility, let alone obtain a medical marijuana prescription. 
Patients need an ID card to enter the building, which surveys the outside world with two cameras at all times. The ID cards can only be granted to certified patients by doctors who have been treating them for one of the listed illnesses and are licensed to prescribe medical marijuana (according to the Times, there are only two in Manhattan, but any doctor can become licensed through a quick online course).
"We will be providing products and services to a chronically ill patient that hasn't had a great deal of success relying on the standard of care," head of Columbia Care and former Goldman Sachs investment banker Nicholas Vita told CNBC. "Part of our mandate is to provide the highest-quality products, services and information so patients can make the right decisions with their physicians."