8 Outfits That Prove Kate Middleton Is the Most Fashionable Royal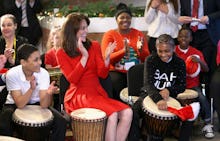 Chris Jackson/Getty Images
A royal bash is in order, since Kate Middleton turned 34 years old on Saturday. British pop star Adele is rumored to be performing at Middleton's Norfolk estate, according to the International Business Times. Last year, the Duchess of Cambridge privately spent her birthday with husband Prince William and their son Prince George for a quiet evening at Kensington Palace, according to Yahoo. 
Regardless of whatever her plans are, she'll probably be well-dressed. Fans adore her style so much that not only are there websites solely dedicated to her wardrobe, but her outfits tend to sell out in minutes. The phenomenon is dubbed "The Kate Effect," or "The Duchess Effect," and describes her powerful influence on fashion item sales around 2011, according to Vogue. The style craze has reduced significantly, but just a slight haircut manages to make headlines. 
Read more:
At the same time, Middleton's style has been criticized for being safe, sometimes even boring, rather than iconic, groundbreaking or controversial. That's just it. Like Michelle Obama, she is a mother of two and also a public figure, who is highly relatable — and lovable — to women everywhere. She shops at right off the rack at regular stores, re-wears her outfits and dresses, well, like a (stylish) mom. She's been called the "pauper's princess," according to the New York Post. 
"I don't need her to break new rules in the world of fashion," Elle's creative director Joe Zee said, according to ABC. "I just need her to look gorgeous and happy and that's what she looks."
So in celebration of Middleton's global fashion influence, here are eight memorable looks:
1. On Dec. 15, The Duchess attended a Christmas party at The Anna Freud Centre Family School in North London, England, donning an Alexander McQueen red dress, according to Popsugar. 
This is actually her third time she's been spotted in the dress since 2012, but it's especially festive for the holiday season.
2. In 2011, the royal couple headed off to meet the the Obamas according to the New York Post. For the meeting, Middleton wore a $340 camel dress from retail chain store Reiss.
Since this was in peak reign of "The Duchess Effect," people flocked online to purchase the dress and ended up crashing the site, the New York Post reported. 
3. In October 2015, Middleton appeared on the red carpet for the latest James Bond movie Spectre. She wore Jenny Packham, and looked as glamorous as a Duchess at a movie premiere could, Elle reported. 
4. In 2011 for a medal ceremony, Middleton wore an Alexander McQueen coat that matched the military uniforms of the Irish Guard themselves, Harper's Bazaar reported. 
5. In the summer of 2011, Middleton wore a dress from European retailer Zara and a jacket from Ralph Lauren, Harper's Bazaar reported.
6. In 2010 for her and Prince William's engagement announcement, Middleton wore the now iconic blue wrap dress by British brand Issa, according to Marie Claire.
7. Middleton rocked neutrals and a hat in August 2014 for a World War I commemoration in Belgium, Marie Claire reported. 
8. Perhaps Middleton's most iconic look is her lace Alexander McQueen wedding dress, which she wore in 2011. The dress was estimated to cost more than $400,000, NBC reported. Her tiara was made by Cartier in 1936, according to BBC.
Maybe royal youngsters George and Charlotte will follow in Middleton's fashionable footsteps.