State Department Report Says Hillary Clinton Was Slow in Releasing Emails, Information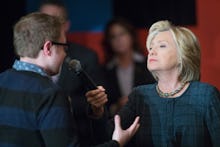 Hillary Clinton's State Department made sluggish, incomplete responses to requests for information during her tenure as secretary of state, a report released Thursday found. In short, the department's inspector general found the State Department's methods of answering Freedom of Information Act requests to be a travesty.
"Procedural weaknesses, coupled with the lack of oversight by leadership and failure to routinely search emails, appear to contribute to inaccurate and incomplete responses," the investigators wrote.
Clinton has taken heavy criticism for conducting business via her private email account and maintaining a personal server at her Westchester, New York, home. She handed over 55,000 pages of emails from her private account — after having deleted an even larger number — to the department in December 2014.
She did not publicly acknowledge her use of a private email server until last March. The Associated Press, which had been waiting for Clinton's office to fulfill information requests, promptly sued the State Department for access to the emails.
The inspector general report noted that the AP's requests had "sat dormant for several years."
The report says that other groups, including Citizens United for Ethics in Washington and Judicial Watch, ran into walls when trying to gather information from State while Clinton was at the helm.
Notably, when CREW made a December 2012 request for evidence of the number of email accounts associated with Clinton, the State Department said it could find "no records" responsive to the ask, according to the report.
That was despite the fact, the IG said, that "At the time the request was received, dozens of senior officials throughout the department, including members of Secretary Clinton's immediate staff, exchanged emails with the secretary using the personal accounts she used to conduct official business."
The IG also noted that "a 2015 report by the Center for Effective Government found that, among 15 agencies that receive a large volume of public records requests, the department ranked last, in part because of increased processing times and outdated regulations."
The department was understaffed, and those charged with handling public information requests didn't get written guidelines about how to do their jobs. 
Ironically, "the Department has not sent out a notice or memorandum reminding employees of their FOIA responsibilities since March 2009, when former Secretary Clinton sent a message commemorating Freedom of Information Day," investigators said.
For perspective, Clinton's State Department fielded far more requests for information than had previous administrations:
The Clinton campaign had no immediate comment on the report. 
A spokesman for the current secretary, John Kerry, said the department is committed to transparency and has accepted the IG report's recommendations.
The latest revelations about Clinton's State Department are more prime political fodder for critics who say her default setting in life is to be secretive, to resist public scrutiny, to trust only her closest advisers with prime information. Nor, perhaps, is it a ringing endorsement of her managerial ability to keep track of the many moving parts of a large organization.
Sen. Bernie Sanders (I-Vt.) is snapping at her heels, with the next Democratic primary debate coming up on Jan. 17. No small number of people on both sides of the aisle appear unconvinced that Clinton's 2016 campaign reboot represents a true change in the way she operates. 
The leader of the pack has less than a year to deal with that. Thursday's report? Not helpful.