Ronda Rousey Reveals Preview of 'Sports Illustrated' Swimsuit Body Paint Photo Shoot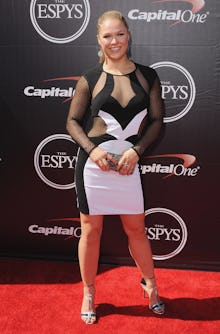 Jon Kopaloff/Getty Images
Ultimate fighting champion Ronda Rousey has spoken out against society's standards of beauty before, but that doesn't mean the MMA fighter can't turn a few heads herself. Rousey will be clad in nothing but body paint for February's edition of Sports Illustrated. Shot on the beautiful beaches of Grenada, a small Caribbean country, Rousey can be seen posing for a few teaser photos. 
According to the magazine, "Christmas is coming again, folks!"
Read more:
Although these photos are enough to get Rousey's fans excited, the former UFC Bantamweight Champion has also challenged views on gender and what it means to be a "real man." Her feud with Floyd Mayweather regarding his history of domestic violence brought attention to Mayweather's past, after Rousey made comments when she won the best fighter ESPY in July. 
People took to Twitter to express their thoughts about Rousey's swimsuit preview: