iPhone 7 News: Latest Leaked Images Reveal Apple Getting Rid of Headphone Jack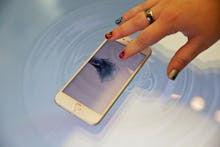 Eric Risberg/AP
Recent reports suggest that there may be big changes ahead for iPhone users — Apple is rumored to be ditching the headphone jack for the next iteration of their bestselling phone, the highly-anticipated iPhone 7.
Rumors of a jack-less iPhone 7 have been circulating for a while now, but this week, several sources involved with iPhone manufacturing in China have "independently confirmed" that the upcoming iPhone 7 won't have a standard headphone jack, reported Forbes. 
Instead, iPhone users will likely be able to hook up their wireless headphones or use headphones that connect to the phone through the Lightning port, the power connector featured in newer Apple products.
Forbes also tweeted out an image of a concept design for the iPhone 7, showing the base of the phone sans headphone jack. Some rumors suggest that once the jack is gone, it may finally become possible to make a fully waterproof iPhone, but that is, as yet, totally unconfirmed.
Read more:
The hints that the next iPhone is sans headphone jack have already inspired a slew of other rumors, like free wireless earbuds from Apple. But nothing will be certain until the iPhone 7 is officially announced, which might happen sometime in the fall.