Sia Drops New Single "Reaper" Produced by Kanye West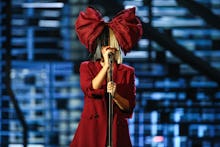 Rich Fury/AP
Sia has released "Reaper," a single off the Australian musician's seventh studio album, This is Acting, which is slated for release on Jan. 29. According to the musician, the latest track was both co-written and co-produced by Chicago's own mega rapper Kanye West. The cut is a poppy ballad that's complete with lush vocals, a handclap beat and, best of all, a survivalist's chorus. 
Read more:
Most recently, Sia, who was born Sia Kate Isobelle Furler in Adelaide, Australia, released her sixth studio album, 1000 Forms of Fear, on July 4, 2014. 
In November, the artist premiered two songs from her forthcoming album during performances on Saturday Night Live — "Bird Set Free" and "Alive." So far, "Bird Set Free," "Alive," "One Million Bullets," "Cheap Thrills" and "Reaper" are all available for download on iTunes. Seven other songs will appear on the album, the titles of which the artist posted to her Instagram account.
The musician has earned high praise for her work in recent years. After its release, Spin rated 1000 Forms of Fear an eight out of ten, and music critic Maura Johnston wrote that the album "sounds like a chunk of the human emotional spectrum committed to record." On Metacritic, the album scored a 76 out of a possible 100. 
Interestingly, according to a deep dive interview with Rolling Stone published on Dec. 3, Sia revealed that her upcoming record is actually comprised of songs she'd written that were rejected. But during the interview, Sia revealed that she believes in the tracks, and she's sticking by their potential by rolling them together on one LP. 
And according to the artist, curation maters. 
"It's really just hit or miss, and I think the reason I'm pretty successful is actually because I'm really productive, not necessarily that I'm a great songwriter," Sia told Rolling Stone. "I think I'm a good curator, so I know how to choose tracks that feel like they're anthemic, or that seem to have an uplifting quality in the chorus. It really seems like the general public responds well to songs about salvation or overcoming something, or that everything's going to be OK or that things are fun." 
She added, "I think that my skill is more upbeat curating, as in choosing the right tracks and then sort of trying to understand the will or nature of popular culture."
This Is Acting track list: 
1. Bird Set Free  
2. Alive 
3. One Million Bullets 
4. Move Your Body  
5. Unstoppable  
6. Cheap Thrills 
7. Reaper 
8. House On Fire 
9. Footprints 
10. Sweet Design  
11. Broken Glass
12. Space Between