Jeb Bush 2016: Latest Polls, News and Updates on Presidential Campaign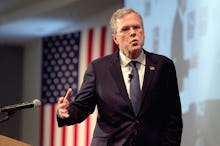 Mary Schwalm/AP
Former Florida Gov. Jeb Bush is still slipping among GOP hopefuls for the 2016 presidential nomination, as he trails current Republican frontrunner Donald Trump by almost 30 points. Overall, he is fifth in the GOP pack, according to a NBC News/SurveyMonkey poll released on Tuesday.
A recent poll — conducted from Dec. 28 to Jan. 3 — has Bush with 6% support from likely American voters, behind Dr. Ben Carson at 9%, Florida Sen. Marco Rubio at 13%, Texas Sen. Ted Cruz at 18% and real estate mogul Donald Trump comfortably in the lead with 35%.
Even with a lack of public support, FiveThirtyEight's Aaron Bycoffe reports that Bush has the most party endorsements of all GOP candidates, with 46 points by his metrics system. Rubio has the second-most, at 38. However, while former Secretary of State Hillary Clinton holds a dominant lead in endorsements among Democrats, the Republicans "have been slow to rally behind a candidate."
Stephen Colbert keeps poking fun at Jeb. Colbert's Late Show returned to CBS' airwaves after a two-week hiatus, and the host didn't waste time in poking fun — once again — at Jeb Bush's campaign and its recent logo issues. Bush's team allowed the copyright for his campaign slogan, "Jeb!" to run out in November.
"This is — and I mean this sincerely — the most interesting development ever to come out of Jeb's campaign," Colbert said on Monday's show. Colbert then offered grammatical advice to the GOP hopeful, and suggested a new punctuation mark could reinvigorate Bush's campaign before listing off some potential candidates.
On Thursday, Trump was also willing to impart advice on the former Florida Governor.
Watch Colbert's Jeb! segment below:
Bush is sharing an emotional family account of addiction. While talking about his four-step strategy for drug prevention, Jeb Bush shared his family's personal history of drug addiction with his daughter, Noelle Bush, through a post he shared on Medium on Monday and a subsequent interview with the New York Times the following day.
"I never expected to see my precious daughter in jail," Bush said in his post on Medium. "It wasn't easy, and it became very public when I was Governor of Florida, making things even more difficult for Noelle. She went through hell, so did her mom and so did I."
Noelle Bush had tried to fill a fake prescription for Xanax before eventually serving 10 days in jail after she was caught stealing pills and concealing crack cocaine in her shoe. As Governor, Jeb Bush asked the media to "leave my daughter alone," noting that the only reason it received any attention was because of his family's political prowess.
However, as he spoke at a forum about addiction and heroin in New Hampshire, Jeb Bush took the moment as an opportunity to share his family history with addiction. He also laid out a plan to fight drug abuse through prevention before addiction begins, bolstering the criminal justice system, further securing the U.S. border with Mexico and improving treatment and recovery programs.