Here's 5 People Whose Lives Were Ruined After They Won the Lottery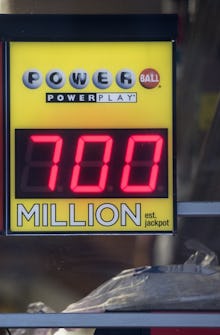 NICHOLAS KAMM/Getty Images
After no one won Wednesday night's $524 million Powerball jackpot, the prize has swelled to a record $700 million — and Americans will surely be sitting on the edge of their seats in anticipation for Saturday's drawing. Plenty of people wish they had millions in their bank account, and the hashtag #IfIWonThePowerball offers insight into how some would spend their winnings. But, can money really buy happiness? 
While some lottery winners go on to live fabulous lives, the lyrics from the Notorious B.I.G. song, "Mo' Money, Mo' Problems" ring true for some others. 
1. Callie Rogers
Rogers won £1,875,000, which translates to about $3 million, in a 2003 National Lottery Jackpot, at the age of 16. For context, most states in the U.S. require a person to be at least 18 to buy a lottery ticket. 
"I will not go wild and spend loads. I'm going to take some advice and see an accountant," Rogers told The Daily Telegraph, after winning the lottery. "Hopefully I will make us all comfortable. I want to help my family, but I won't change. I just want a normal home; nothing posh. I just want a normal car as well." 
However, life came at a rapid pace for Rogers. She began spending her money on family members and friends, had two breast implant surgeries, and spent £250,000, nearly $380,000, on cocaine. Rogers' wild lifestyle drove her to attempt suicide several times. 
Since then, Rogers fell in love with a fireman, and promised to teach her children the "value of money."
2. Jeffrey Dampier
After winning $20 million in the Illinois Lottery in 1996, Dampier used his winnings to open up a popcorn business. He also used the lottery money to buy presents for his sister-in-law, Victoria Jackson, with whom he was having an affair. Jackson conspired with then boyfriend, Nathaniel Jackson, to rob Dampier. "Shoot him or I'll shoot you," Nathaniel Jackson said, as reported by the Tampa Bay Times. Victoria Jackson executed Dampier with a bullet to the back of the head. She was sentenced to life in prison in 2006.
"Jeffrey forgives me," Jackson said during her sentencing, according to the Tampa Bay Times.
3. Evelyn Adams
What happened to Adams in the 1980s is something that most Americans wish would happen only once — the New Jersey local won the lottery twice. Despite winning in 1985 and 1986, the compulsive gambler tore through her $5.4 million winnings, using her money for more gambling, gifts to her family and friends, and other luxuries. As of 2012, Adams lived in a trailer park. 
4. Abraham Shakespeare
In 2006, Shakespeare won a $30 million Florida Lottery jackpot and collected $17 million. Shakespeare, whose major purchases included a Nissan Ultima and a Rolex watch, donated most of his winnings. After winning the lottery, Shakespeare met Dorice "Dee Dee" Moore, who reportedly became Shakespeare's financial advisor. Prosecutors asserted Moore stole Shakespeare's lottery winnings and murdered him, burying the body under a slab of concrete, according to ABC News. 
In 2012, Moore was found guilty of first-degree murder and other charges. "Abraham Shakespeare was your prey and victim. Money was the route of evil you brought to Abraham. You are sentenced to life in prison you shall not be eligible for parole," the judge told Moore at her sentencing.
5. Billie Bob Harrell, Jr. 
Harrell, Jr., a Texas resident, won the $31 million Texas Lotto jackpot in 1997. A former Home Depot employee, Harrell, Jr., brought his family lavish homes and cars, purchased into a ranch and contributed to his church often. Harrell even gave 480 turkeys to the homeless for Christmas. 
However, life took a turn when the lottery winner found himself coping with financial mismanagement and issues in his personal life. In 1999, Harrell, Jr. was found dead in his bedroom, after shooting himself in the chest with a shotgun.  "Winning the lottery is the worst thing that ever happened to me," Harrell, Jr. said to a financial advisor, according to the Houston Press.