9 Ways the World Was Different When 'American Idol' First Debuted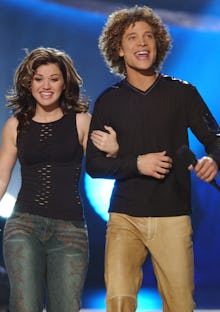 Lucy Nicholson/AP
The 15th and final season of the reality singing competition show American Idol premiered Wednesday night, meaning that the end of a great era in American television is coming to a close. So, it's a great time to take a look back at the many ways in which the world has changed since the show first debuted.
American Idol premiered in June of 2002 and ran through September of that year. The original three judges were Randy Jackson, Paula Abdul and Simon Cowell. Reviewing the show's first season, the New York Times called the phone-in voting system an "inspired marketing gimmick." It was a simpler time — in many ways. 
1. Cell phones were weird.
Imagine, if you can, a time before Instagram and Snapchat. In 2002, cellphones were a lot heavier and clunkier, their screens were smaller and, believe it or not, people mostly used them to make phone calls. Texting was just barely starting to be a thing — a hilarious 2002 article called texting a "a form of high-tech communication" that was "clearly most popular with teens."
2. TV shows were only on TV.
People weren't watching Netflix and HBO GO on their laptops and iPads, they were actually sitting down in front of TVs and watching shows with actual commercial breaks. At the 2002 Emmy Awards, Friends won best comedy, The West Wing won for drama and a young Larry Wilmore won best writing for a comedy series for his work on The Bernie Mac Show.
3. The U.S. had never had a black president. 
Barack Obama was still a young state senator in Illinois with a baby and a toddler at home. In 1998, Nobel-Prize winning author Toni Morrison wrote a piece for the New Yorker in which she famously said that Bill Clinton was "our first black President. Blacker than any actual black person who could ever be elected in our children's lifetime." In 2012, President Obama awarded Morrison the Medal of Freedom in a ceremony at the White House.
4. No one knew how Harry Potter was going to end. 
Idol premiered in between the book release of Harry Potter and the Goblet of Fire, in 2000, and Harry Potter and the Order of the Phoenix, in 2003. Luckily for anxious Potter fans, the second Harry Potter movie premiered in 2002. But basically no one knew how the series would end — I mean, they didn't even know about Horcruxes or anything!
5. You could still buy "super-sized" meals at McDonald's. 
Fast-food giant McDonald's didn't start phasing-out its "super-sized" meals until 2004, which means that, while the first season of Idol was airing, it was still possible to go into any McDonald's and "upgrade" your meal to a 42-ounce soda and and a 7-ounce, 610-calorie order of french fries. 
6. A new Star Wars movie came out. 
In 2002, the world had Star Wars fever: Star Wars Episode II: Attack of the Clones premiered in May, about a month before the first season of Idol began. Just like today, people camped out and dressed-up for the film's premiere. Unlike today, Attack of the Clones was released on VHS. 
7. Britney Spears and Justin Timberlake had just broken-up. 
All seemed well in the world of teen-pop's prince and princess at the start of 2002: In February, Spears did an interview with Oprah in which she said she and then-boyfriend Timberlake called each other "pinky" and "stinky." Adorable! But trouble was brewing in paradise, and by the time Idol's finale aired in September, the two had been broken up for months. 
8. Same-sex marriage wasn't legal in any U.S. state.
In 2002, when American Idol debuted, gay couples could not get legally married in the U.S. It wasn't until 2004 that Massachusetts became the first state to legalize same-sex marriage. In June of 2015, the Supreme Court ruled in favor of same-sex marriage, making it legal in all 50 states.
9. Trucker hats were cool. 
This is probably going to be the toughest 2000s trend to explain: In 2002, trucker hats were super cool. Celebrities wore them to Hollywood events, and people bought personalized, spray-painted trucker hats. Why did everyone love trucker hats so much? No one knows for sure, but by 2003 the trend was already on the decline. The New York Times published a piece that year that boldly announced, "RIP the trucker hat."