2016 US Election Polls: Latest National and Primary Polls for Week of January 4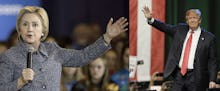 Mic/Charlie Neibergall/Carlos Osorio
The race for the White House has already been a long affair, yet entering 2016 signals the beginning of an election year, which draws the remaining candidates ever closer to Nov. 8. There's been no shortage of dropouts since presidential hopefuls began campaigning for the role of commander in chief, though while a particularly small pool of Democratic candidates remains, the Republicans still have a fair number of candidates with skin in the game.
The remaining Democratic candidates include frontrunner and former Secretary of State Hillary Clinton, Vermont Sen. Bernie Sanders and Martin O'Malley, the former governor of Maryland. 
On the Republican side, real estate mogul Donald Trump is beating out challengers in the polls. The pool of remaining GOP presidential candidates also includes Texas Sen. Ted Cruz, retired neurosurgeon Ben Carson, Former Florida Gov. Jeb Bush, New Jersey Gov. Chris Christie, former Hewlett-Packard CEO Carly Fiorina, former Virginia Gov. Jim Gilmore, former Arkansas Gov. Mike Huckabee, Ohio Gov. John Kasich, Kentucky Sen. Rand Paul, Florida Sen. Marco Rubio and former Pennsylvania Sen. Rick Santorum. 
General election: The most recent general election data from Rasmussen Reports, which surfaced on Dec. 28, puts Clinton ahead of Trump, but only just slightly. According to the data, Clinton is polling at 37% compared to Trump's 36%. Surprisingly or not, Rasmussen Reports' data says that Trump is the preferred candidate over Clinton for men by a 41% to 31% margin. Conversely, women voters prefer Clinton over Trump by nearly the same margin, 42% to 31%, according to the poll. 
Republican polls: The most recent numbers from CNN/ORC International, which were released on Dec. 23, put Trump ahead of the pack. According to the data, Trump is polling at 39% of Republican primary voters' favor, Cruz is polling at 18%, and Rubio and Carson are both at 10%. Trailing those candidates is Christie at 5%, Paul at 4% and Bush at 3%. No other Republican presidential candidate polled above 2%.
The polls are similarly divided by gender among Republican primary voters. According to NBC News, Trump is polling at 39% among male Republican primary voters and at 29% among female Republicans. Similarly, NBC New reports that Cruz has 21% of male Republican primary voters' favor, compared to 13% of female Republican primary voters. Rubio, on the other hand, is polling at 14% among female Republican voters, and 13% among males. 
As is typically the case with election polls, a candidate's percentage lead can vary poll to poll. According to a graphic via the Wall Street Journal, which pulls data from Real Clear Politics, Trump is polling nationally at 35.3%, Cruz is polling at 20%, Rubio is polling at 11% and Carson is at 9.7%.
Democratic polls: on the Democratic side, Clinton is the clear frontrunner, according to the Journal, and is polling at 53.3%. Sanders trails Clinton with 32% of Democratic primary voters' favor, and O'Malley is at 3.5%.
According to NBC, it's less of a gender discrepancy among voters and more of a question of certainty in the candidate that's leading in the polls. About 53% of Democratic primary voters are "absolutely certain" that Clinton will get their vote in the primaries, while 31% said there's a "large chance" they'll vote for Clinton and 13% said there's a 50 to 50 chance they'll vote for the former Secretary of State. 
Considering Sanders as a candidate in the primaries, 44% of voters responding to NBC's survey said they're absolutely certain the Vermont Senator will get their vote, 35% said there's a large chance and 18% said there's a 50 to 50 chance they'll vote for Sanders. 
New Hampshire polls: Public Policy Polling released figures on Wednesday that say Trump has a 14% lead in New Hampshire, and that his lead on Republican challengers has remained relatively steady over the past three months. In the Granite state, Trump is polling at 29%, followed by Rubio at 15%, Christie and Kasich at 11% and Bush and Cruz both at 10%. 
According to the findings, it's a much tighter race for Democrats in New Hampshire, with Clinton polling at 47% compared to Sanders' 44%. 
"Hillary Clinton and Bernie Sanders have been within 2-3 points of each other on our last two New Hampshire polls," said Public Policy Polling president Dean Debnam in the Wednesday release. "Clinton is dominant with the Democratic establishment, but Sanders is proving to be more appealing to people outside the party. It may come down to how many of those non-Democrats he can get to come out and choose to vote in the Democratic race rather than the Republican one that's drawn a lot more interest."