Here's a List of Mindy Kaling's 9 Favorite Romantic Comedies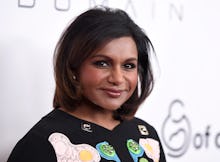 Jordan Strauss/AP
Mindy Kaling shared an epic list of her nine favorite romantic comedies, temporarily relieving us from the excruciating indecisiveness that is deciding what movie to watch. The eclectic list (as eclectic as rom-coms can get) includes classics like You've Got Mail, which she promises isn't a guilty pleasure, and The Holiday (you know, the one where Kate Winslet and Jack Black fall in love while Winslet is subletting Cameron Diaz's mansion).
Read more:
The comedian-actress graciously shared the sacred list of rom-coms via Twitter on Wednesday, sans Annie Hall, which she said was her ex-boyfriend and close friend B.J. Novak's request.
Here are the nine movies you should watch, or rewatch, next, according to queen of all things Kaling:
1. Bridget Jones' Diary
Kaling boldly asserted, dare she say, that the movie may even be better than the book "because Hugh Grant and Colin Firth were better than the Daniel Cleaver and Mark Darcy of your mind." Fair.
2. You've Got Mail
Contrary to popular belief, Kaling assures us You've Got Mail is not a guilty pleasure because "as Quentin Tarantino said, 'there are no guilty pleasures, only pleasures.'"
3. The American President
Annette Bening in black leggings is one of the several things Kaling adores about The American President.
4. The Princess Bride
Kaling thinks The Princess Bride is "page for page the best-written romantic comedy script," and she's not the only one — it has a 97% rating on Rotten Tomatoes. 
5. The Apartment
Shirley MacLaine's pixie cut and "Jack Lemmon straining spaghetti in a tennis racket" are two things Kaling swoons over in the 1960 classic. 
6. A League of Their Own
"The only bad part was that Tom and Geena didn't hook up." Preach Mindy, preach.
7. The Holiday
Kaling loves The Holiday because it's "built around temporary subletting." Airbnb is oh so romantic. So is the idea of Kate Winslet dating Jack Black IRL.
8. Strictly Ballroom
"Real weird and so good. Gets you primed for Silver Linings Playbook." — Kaling
9. Silver Linings Playbook
"I don't care if you have a real bad mental illness, Bradley Cooper, I'll dance with you." — Kaling speaking for all of us.