Amandla Stenberg Sums Up the True Beauty of Embracing Natural Hair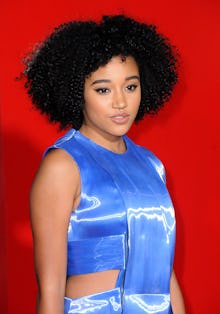 Teen Vogue just revealed its cover star for its February issue, and it's none other than Amandla Stenberg:
And, of course, Stenberg is nothing but open, candid and eloquent on the issues that matter — including hair.
The 17-year-old actress is known for her role in the first Hunger Games film as well as for her articulate online takedowns of cultural appropriation, including the memorable YouTube video, "Don't Cash Crop My Cornrows." 
It's an issue that Stenberg dives into in the interview for Teen Vogue, telling R&B singer Solange Knowles, who conducted the interview (!), that she's "not tired of talking about hair in the sense of it being an empowering thing." Black hair can be a complicated issue for black women who grow up viewing their hair as inherently unattractive. That's the situation Stenberg said she found herself in:
I know when I used to chemically straighten mine, I did it because I wasn't comfortable with my natural hair. I thought it was too poofy, too kinky. So for me, personally, when I started wearing it natural, it felt like I was blossoming because I was letting go of all the dead hair and all the parts of me that had rejected my natural state.
Letting that go and embracing what she had was liberating, she expressed, particularly since it meant not conforming to past standards of beauty — ones that often leave out women of color — that had felt so limiting.
More and more women are feeling the same: Natural hair is experiencing a much-welcomed upswing in pop culture, with more young black women deciding to do away with relaxers and straight hair in favor of embracing their natural state. 
That was evident at the latest Victoria's Secret Fashion Show, where Angolan model Maria Borges walked the runway with her closely cropped hair. Festivals celebrating natural hair have also sprung up, young bloggers (like this one) are connecting with growing fan bases over beauty and more products than ever cater to natural hair, including beauty subscription boxes. In fact, we even now have curly haired emoji of all colors and ethnicities.
Stenberg pointed out that not all black girls and women may feel the same way about their natural hair, nor do they need to. 
"Some have their hair straight because that's just how they like it, and it doesn't mean that they accept themselves any less," she told Teen Vogue.
Solange agreed, saying she also wanted to feel free to wear her hair however she wants.
"I want to have the freedom to wear a long weave down to my ass tomorrow if I want to, and then wear it in crocheted braids, and then have it so straight that my edges are laid," she said.
But it's that freedom to choose — and to be outspoken about that choice — that's growing for the better. Stenberg epitomizes that with her candor; her comments about about identity and her experience as a young, black woman in Hollywood have garnered her fans all over. 
And we don't doubt it will earn her just a few more magazine covers before the year is done.