Ted Cruz 2016: Latest Polls, News and Updates on Presidential Campaign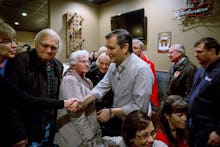 Aaron P. Bernstein/Getty Images
At the beginning of the 2016 calendar year, Texas Sen. Ted Cruz is second among the GOP pack for the Republican presidential nomination, as he currently trails frontrunner Donald Trump by 17 points. Altogether, Cruz holds 18% of likely Republican voters, according to the latest NBC News/SurveyMonkey poll released on Tuesday.
The poll, which surveyed 3,700 adults from Dec. 28 to Jan. 3, has Florida Sen. Marco Rubio behind Cruz with 13%, while Dr. Ben Carson and former Florida Gov. Jeb Bush round out the top five with 9% and 6%, respectively. Trump holds 35% of the vote, and more than eight in 10 of his supporters said they are certain they would vote for him, which means Cruz would still need to gain significant ground on the real estate mogul.
However, 22% of voters said Cruz is their second choice for the GOP ballot, more than any other candidate, according to the poll.
Trump, McCain push Cruz citizenship issue: According to CNN, Arizona Sen. John McCain has joined Donald Trump in questioning Cruz's eligibility to run for commander in chief, since the Texas senator was originally born in Canada.
"I think there is a question [on Cruz's citizenship]," McCain said in an interview with CBS' Phoenix affiliate, KFYI. "I'm not a constitutional scholar on that, but I think it's worth looking into. I don't think it's illegitimate to look into it."
Trump has recently gone after Cruz on his Canadian citizenship — which he renounced 18 months ago — after it became clear the Texas senator was closing in on him in the national polls. In response to McCain's comments, Trump tweeted that the Arizona senator is "certainly no friend of Ted."
Cruz had his own, cheeky Twitter retort to Trump's accusations, though: 
Cruz goes on offensive, claims Obama "wants your guns": After President Barack Obama's speech detailing a series of executive actions to try and limit gun violence on Tuesday, Cruz has accused Obama of devising a plan to take guns away from Americans.
In the aftermath of the president's speech, Cruz's campaign page created a signup sheet to "support the protection of your Second Amendment rights" because Obama "wants your guns." The page also had a photoshopped picture of Obama covered in military gear,
"Look, he's targeting private consensual gun sales between law-abiding citizens and this is what Obama gets wrong over and over again," Cruz said in an interview with CNN.