'Tales From the Crypt' Reboot From M. Night Shyamalan — Here's What We Know So Far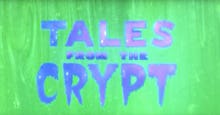 YouTube
This is what nightmares are made of. The Sixth Sense's M. Night Shyamalan will be leading the revival of Tales from the Crypt, according to Entertainment Weekly. The revamping is a part of TNT's new two-hour horror session, which Shyamalan is curating. 
"To be part of such a beloved brand like Tales from the Crypt, something I grew up watching, and to also have the chance to push the boundaries of genre television as a whole, is an inspiring opportunity that I can't wait to dive into," Shyamalan said in a statement on Thursday.
Read more:
The original Tales from the Crypt, which was Emmy-nominated, ran on HBO for seven seasons from 1989 to 1996, and was based off of William Gaines' 1950s bi-monthly EC Comics horror comic book series of the same name, Entertainment Weekly reported. The R-rated show was narrated by a creepy "crypt keeper" puppet, which was voiced by John Kassir. Its late-night airtime allowed it to include sexuality and violence in its short narratives, according to Variety.
Shyamalan will direct the first episode, and the comics will serve as inspiration for the others, TNT chief Kevin Reilly told Entertainment Weekly. He'll also have help from his company Endgame Entertainment and Aloris Entertainment's John Santilli and Dan McKinnon, who both worked on the 2011 drama Missing William.  
Tales from the Crypt won't be the only nightmarish addition to TNT, which airs shows like Charmed and Hawaii Five-0. The other shows will be announced in the near future, the statement said. "This two-hour horror block demonstrates not only TNT's commitment to working with today's top talents, but also our strategy to stand out in today's marketplace by challenging the conventional rules of programming and scheduling," TNT's executive vice president of original programming Sarah Aubrey said in a statement. 
The horror project is expected to debut in the fall of 2016, hopefully right around Halloween. 
Below is the intro scene from the original series: