Marco Rubio 2016: Latest Polls, News and Updates on Presidential Campaign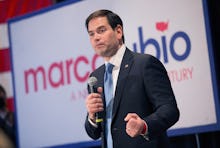 Scott Olson/Getty Images
In the first national poll of 2016, Florida Sen. Marco Rubio still holds the third-most votes among candidates for the Republican Party's nomination. He has a lot of ground to gain to compete with frontrunner Donald Trump, but he is just 5 points behind Texas Sen. Ted Cruz, according to a NBC News/SurveyMonkey poll released Tuesday.
Of likely American voters who support Rubio, 26% of them said their support was already set in stone, while 49% said there was a "large chance" they'd wind up voting him, according to the poll. Trump, by contrast, had 51% of his voters saying they were certain to vote for him, with 33% believing they will probably do so.
However, only 11% of those surveyed said they believed Rubio would win the GOP nomination, compared to 49% and 22% to Trump and Cruz, respectively.
Rubio penned an op-ed proposing to restore limited government. On Wednesday, Rubio wrote an op-ed piece USA Today, highlighting his vision as president to "promote a convention of states to amend the Constitution and restore limited government." Rubio said he wants to impose "term limits on Congress and the Supreme Court" and force "fiscal responsibility through a balanced budget requirement." 
A convention of states is also a notion that has never been invoked in American constitutional history. For these reasons, Washington Post political blogger Jennifer Rubin noted, the concept could potentially backfire with the ideals of his party.
"Gay marriage, which Rubio opposes, is now supported by most Americans," Rubin said. "At a convention it would be concretized in the Constitution. Liberals would be delighted with all these moves, but conservatives would not."
Rubio's boots have been stealing the show on the campaign trail. Rubio toed the line with national media throughout the week, as he was shown rocking a shiny pair of high-heeled boots by New York Times reporter Michael Barbaro on Monday.
It didn't take long for the boots — made for walking, and it's likely that's what they'll do — to draw cheeky remarks from Republican rivals, with former Hewlett-Packard CEO Carly Fiorina and Kentucky Sen. Rand Paul taking jabs at Rubio's footwear.
Additionally, New York magazine's Jessica Roy favorably compared the boots to those of One Direction singer Harry Styles.
"The boots — which we think are either these Giorgio Brutini boots or these Margiela ones — looks a lot like a pair favored by Styles, albeit with slightly less pilgrim flair," Roy said.