Amy Schumer Met Her Boyfriend IRL, Not on Bumble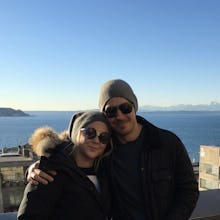 BenHanisch/Instagram
It's a dark week for single people whose only hopes were comparing their love life to Amy Schumer's and meeting someone on Bumble. On Tuesday, it came to light that Amy Schumer is dating dreamy furniture designer Ben Hanisch and on Thursday, Schumer shut down reports that she met him on Bumble.
On Wednesday, E! News reported multiple sources told them Schumer met Hanisch on the popular dating app Bumble. Schumer responded in a series of tweets confirming she's never even been on the app and prefers meeting people the old-fashioned way: prostitution. See, monogamy hasn't changed Schumer — yet.
Schumer later retweeted her sister Kim Caramele's picture of this dog, that clearly wishes it had a sexier Halloween costume, as "proof."
The couple unofficially confirmed their relationship through several recent social media posts including Hanisch's first Instagram of Schumer Friday. "Sometimes in life you get extremely lucky, and the smartest, funniest, most beautiful woman comes along when you least expect it," he captioned a picture of the two in cozy winter gear. "Here's to what adventures 2016 brings!" (The Instagram got him roughly five times more likes than he usually gets).