NYPD Settled 2 Civil Rights Lawsuits by Promising Not to Illegally Spy on American Muslims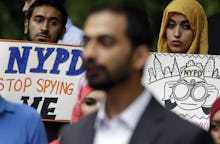 On Thursday, settlements for two civil rights lawsuits filed in federal court will mandate the New York Police Department implement stricter surveillance practices of Muslims in America.
The cases were brought against the NYPD by mosques, student associations, individuals and businesses after the country's biggest police department secretly infiltrated mosques and other Muslim organizations in New Jersey and New York by sending undercover officers to join the community. 
A civilian attorney must now be appointed to a panel tasked with ensuring the NYPD does not violate the First Amendment rights of any Muslims. 
The appointment of a civilian attorney to monitor the police's surveillance was originally a requirement under the 1985 Handschu decree — a response to NYPD overreach in the 1960s and '70s, when it spied on left-wing Americans exercising free speech in the wake of the "Red Scare." But after 9/11, the Handshcu decree was slackened in the name of thwarting terrorism. 
"It's not that different than what happened back in the '60s, except that somebody's being targeted because of ethnicity and before we were targeted because of political belief," Barbara Handschu, who was part of the lawsuit and the subsequent decree's namesake, told the Huffington Post back in 2011. "I mean, this is worse. This is racial profiling."
One of the civil lawsuits filed by Muslim Americans was initially dismissed by a judge in 2014. However, the United States Court of Appeals for the Third Circuit allowed the case to proceed.
"What occurs here in one guise is not new," Judge Thomas L. Ambro wrote for the panel of three judges hearing the appeal, the New York Times reported in October. "We have been down similar roads before. Jewish-Americans during the Red Scare, African-Americans during the civil rights movement and Japanese-Americans during World War II are examples that readily spring to mind," he continued. "We are left to wonder why we cannot see with foresight what we see so clearly with hindsight."
The American Civil Liberties Union applauded the settlement, hailing it as a historic move toward protecting the country's Muslims, who have more and more become the target of racial and religious profiling.
"This settlement is a win for New York Muslims and for all New Yorkers, who have a right to be free from discriminatory police surveillance and to practice their religion without stigma or fear," Hina Shamsi, ACLU national security project director, wrote on Thursday. "At a time of rampant anti-Muslim hysteria and discrimination nationwide, this settlement sends a forceful message throughout the country, demonstrating that law enforcement can and must do its job without resorting to discriminatory practices."