Rand Paul 2016: Latest Polls, News and Updates on Presidential Campaign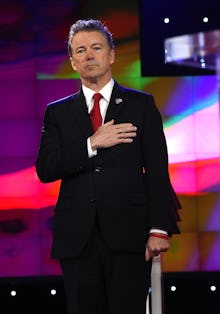 Ethan Miller/Getty Images
Kentucky Sen. Rand Paul has failed to garner additional support in the polls from Republican voters, which leaves the candidate ahead of just former Pennsylvania Sen. Rick Santorum. Paul has two points, tied for second-last among GOP hopefuls, alongside Ohio Gov. John Kasich and former Arkansas Gov. Mike Huckabee, according to the latest NBC News/SurveyMonkey poll released on Tuesday.
What's even more concerning for Paul is that 5% of voters surveyed responded with "don't know" for the GOP nomination, three points ahead of the senator's support. Republican frontrunner Donald Trump, by comparison, had 35% support, according to the poll.
Furthermore, none of those surveyed said that Paul would be their second choice candidate or that he would eventually win the Republican nomination, further solidifying the marginal numbers he received from the poll, which was conducted between Dec. 28 and Jan. 3.
Paul makes Late Show appearance, cleverly dodges pot question: On Wednesday, Paul sat down with Stephen Colbert for an interview on the Late Show to talk about his similarities with his father, Ron Paul, his thoughts on Trump being the Republican party's frontrunner, why he cuts his own hair and NOT pot.
When he talked about some of the instances where he's worked alongside Democrats to pass important reforms — such as bringing troops home from Afghanistan — Colbert probed the question as to whether he's worked on any drug policy reform, to which the senator was quick to the draw.
"You're not going to ask about pot, are you?" Paul said. "I thought we said before we would not talk about pot, Stephen."
"You tried to sell me pot backstage," Colbert said. "I'm sorry: You tried to sell me on the idea of changing sentencing guidelines for pot. I should have said the entire sentence, I apologize."
Watch Paul's engaging and witty interview with Colbert below:
Paul blasts Rubio on ISIS claims: After Florida Sen. Marco Rubio took shots at some of his Republican rivals in a speech on foreign policy on Monday, Paul hit back two days later by calling the senator the "weakest candidate on national defense," according to Bloomberg.
Making a stop on MSNBC's Morning Joe, Paul added that conservatives with viewpoints like Rubio's can be partly to blame for the rise of the Islamic State group, also known as ISIS, in the Middle East.
"I've been saying that one of the reasons ISIS grew is because the neoconservatives like Rubio wanted to push [Syrian President Bashar] Assad back, they wanted to topple Assad, and that's created a space for ISIS to grow and I think that's a legitimate foreign policy point," Paul said.
Rubio's initial jab at Paul was directed at Paul's libertarian stance on foreign policy. However, he also made a not-so-subtle dig at Paul's 2014 filibuster of President Barack Obama's nomination of a judge who authorized a drone strike against Anwar al-Awlaki — the first American to be killed in a drone strike — during Obama's first term.
"Words and political stunts cannot ensure our security," Rubio said, according to NPR. "ISIS cannot be filibustered."