Missouri Lawmaker Wants His Colleagues to Report Sex With Lobbyists as a Gift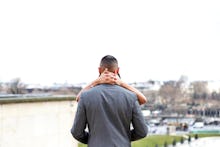 A Missouri lawmaker is pushing a bill that would require lobbyists to disclose whether they're engaging in sexual congress with legislators.
State Rep. Bart Korman's proposal comes after Missouri House Speaker John Diehl's May 2015 resignation over steamy texts he'd traded with a college student who had interned at the Capitol. Lobbyists who participate in both pillow and political talk would have to inform the Missouri Ethics Commission of their liaisons with legislators or members of their staff according to Korman's bill.
"I wanted to bring some integrity, transparency and accountability," he told Mic. "Citizens should know if a relationship should exist between a lobbyist and an elected official."
Republican Korman introduced his amendment to state law on Wednesday, adding a section classifying sex as a "gift" a lobbyist would have to declare along with any spending on entertainment, food and drinks geared at getting officials to support or oppose their clients' priorities.
But what price is love?
"My wording does not require it as a dollar evaluation. I didn't want to degrade it to having to establish a dollar value to something that is more of an act than a tangible item," said Korman, who, besides serving as a state representative, also happens to be an auctioneer.
"I definitely didn't want to have to go down that avenue."
Korman's bill, which does not yet have a co-sponsor, makes exceptions for people who are married or whose personal relationships began prior to their professional dealings.
He told Mic he's not sure anyone would actually make the required sexual confessions, either, but the rule might serve as a deterrent. "As a reporting requirement, maybe it prevents some of that activity," he said. 
Of course, that will only be known if the amendment actually passes.
"There may be a lobbyist or two working against me on this one," he deadpanned.
Correction: Jan. 8, 2016