This Syrian Town's Residents Are Dying of Starvation — But Now Help Is on the Way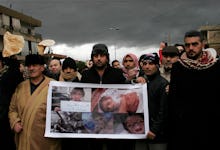 Man cannot live on leaves alone.
But in the Syrian town of Madaya, it's that or death. It's there that residents, under a months-long siege by Syrian President Bashar al-Assad's forces, have watched nourishment options dwindle to flora, fauna, pets or, if lucky, rice — and the population of around 40,000 is slowly starving. The military has blocked all roads into Madaya, cutting it off from potential supply drops. The New York Times reported 23 people have starved to death at a health center since Dec. 1, six of them under the age of 1, according to Doctors Without Borders. The BBC reported the situation in the town is "extremely dire." 
On Thursday, Syria sanctioned humanitarian aid from the United Nations' World Food Program.
Not long after the aid was announced, the New York Times posted a startling video showing a little boy testify that he hasn't eaten for seven days. "I swear to God!" he says. 
Source: New York Times
"I think we have to accept that this situation that they would be moving into is incredibly tense," WFP spokesman Greg Barrow told the BBC. "We're moving across front lines. We need to ensure that that access is there, that there's no risk."
In a statement Thursday, the U.N. Office for the Coordination of Humanitarian Affairs said "the U.N. has received credible reports of people dying from starvation and being killed while trying to leave" the area under siege; videos posted to social media, apparently by residents of Madaya, are rapidly making their way around the internet, sounding a call for help from inside the besieged community.
Help is on the way, but as Barrow told the BBC, the earliest possible arrival of food trucks in Madaya would be in roughly two days.
Madaya, located near the border of Syria and Lebanon, has been occupied territory since July. Since then, the town has received one food delivery, its inhabitants existing in what is effectively "an open-air prison," in the words of Brice de le Vingne, the director of operations at Doctors Without Borders. 
And according to de le Vingne, the shortage isn't confined to food: Medical supplies in Madaya have also run out. 
"Now that the siege has tightened, the doctors we support have empty pharmacy shelves and increasing lines of starving and sick patients to treat," de le Vingne said on the DWB website. "Medics are even resorting to feeding severely malnourished children with medical syrups as they are the only source of sugar and energy, thereby accelerating the consumption of the few remaining medical supplies."
Madaya is located in the Sunni portion of Syria that has been seized by troops in coordination with Lebanese Hezbollah supporters; Syria has also green-lighted U.N. aid for two other towns in the region, Kefraya and Fua. 
"Madaya is not on the verge of a humanitarian catastrophe; it is already a humanitarian catastrophe," a health worker on the ground told the Guardian. "The view on the street is frightening, frightening. We know that people think we are exaggerating, but believe me, it is worse than any exaggeration." 
It's a distressing thought, especially as European and U.S. citizens push back against refugees from the Syrian civil war settling within their countries.