In the Future, This Is How Tech Will Take Care of You When You're Sick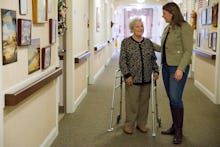 Everyone gets old; it is the unfortunate truth of life. But aging doesn't have to be terrible.
At least that's the idea behind Josh Bruno's company Hometeam, which is devoted to building "beautiful days" for the elderly. Think of it as on-demand home care for grandma and grandpa. They fill out a survey on a mobile or web app, and then Hometeam connects them to a caregiver suited to their personality. The beauty of it all? People are receiving care in their own residences — not a nursing home.
Bruno came up with the idea for Hometeam while looking for a caregiver for his grandfather, who was in the early stages of dementia. Bruno quickly discovered there was absolutely no transparency about the kind of care his grandfather was receiving at home. Not only that, but the service provider didn't always send the same health care worker every time. Despite getting in touch with the health care agency, Bruno couldn't find out basic details about his grandfather's treatment, like how many hours he was spending with the health care aid? What did they do all day? Was he getting his medication?
As a result, Bruno and his family made the difficult decision to send his grandfather to a nursing home.
"We at least knew that someone would be around," Bruno told Mic. "But we had the same issues there. He was in his room alone for 23 and a half hours a day. And there was no physical activity, no one-on-one attention."
Nursing homes have a bad reputation. For one, they're expensive. A 2010 estimate put the average cost of living at a nursing home around $75,000 per year for a shared room and $84,000 a year for private room, according to the Department of Health and Human Services. 
There's also a serious prevalence of abuse at many facilities. A study conducted by the U.S. House of Representatives over the period of 1999 to 2001 indicated that 1 in 3 nursing homes were cited for violations, according to the National Center on Elder Abuse. The NCEA also cited a survey of 2,000 nursing home residents, in which 44% said they had experienced abuse and 95% said they had been neglected themselves or witnessed neglect.
A more recent study estimated that 260,000 seniors in New York reported abuse in 2008, according to a New York State Elder Abuse Prevalence study. Worse, researchers found that only 1 in 24 instances of abuse actually gets reported.
Depression is also widely prevalent in nursing homes. Depending on the nursing home and how depressive symptoms are defined in a given study, the percent of elderly people in care facilities can range from 12.4% to 35%, according to a 2008 study on depression and long-term care.
So home care, which is cheaper over all, may seem like a good option. The problem is securing the right kind of care.
Hometeam is different. Hometeam caregivers log all client information, like what medicines they took during the day and whether they went for a hike, into the Hometeam app, where family members and other caregivers can access it. The company also allows hospitals to integrate into its network directly.
"We're sending information to your physician, your social worker, your hospital, your rehab center, but we very quickly realized that's not the only problem this industry has," Bruno told Mic.  
As millennials grow reliant on a blossoming variety of on-demand apps, Hometeam stands to capture a crucial market: you.
The costs are also substantially lower than a traditional nursing home. Bruno says Hometeam services cost between $19-$25 an hour, which is relatively on par with industry averages, according to the U.S. Department of Health and Human Services. The company also accepts Medicare and Medicaid, he says, but those programs don't tend to cover home care long term.
"The unfortunate truth, is that in this industry as a whole the government doesn't sponsor as much homecare as they should."
In addition to helping disabled and elderly people get the care they need at home, Hometeam is also addressing a major industry issue. Despite being in charge of people's most beloved family members, home health aide positions don't require much training. A 2015 study found that home health workers have a 61.6% turnover rate, according to the Paraprofessional Healthcare Institute. Experts believe that may be due to the low wages associated with the job. Home health aides have a median income of $10.28 per hour according the Bureau of Labor Statistics.
Bruno says he pays his workers 30% to 50% above an average wage of $9.50 an hour (so, roughly $12.50 an hour as starting pay). Hometeam workers are all employees, not contractors, and the company guarantees all workers at least 20 hours a week as well as their own health care benefits and a 401(k). Hometeam also puts a lot of energy into training staff members and creating pathways to help company members rise through the ranks from general staff to community leaders, mentors and managers, potentially reaching a head caregiver role.
On-demand health care is on the rise. In the last few years, a smattering of on-demand doctor apps made a splash in the media for promising to revolutionize the health care industry. These include Pager, a service that brings general physicians to your home for non-emergency services; Talkspace, a mobile chat app that connects you with a therapist around the clock; and Blink, which offers eye examinations in your home. The field is far from saturated, leaving room for new competitors to rise.
Many of these startups serve to reduce strain on our health care system. Hometeam also tackles this issue, but in a much less direct way. Nursing homes and home health aids aren't often seen as part of the health care system, and indeed there is less accountability in these institutions than in a traditional hospital. But what all these apps stand to do is to help make health care more streamlined — and thus more accessible.   
There's a fair amount of technology involved in Hometeam. The company automates the kind of office work that is often done manually, saving it money on overhead costs and allowing the company to keep employee wages high. "Every time we automate another function, we move that onto our caregivers as well, so their pay keeps going up and up and up, which is completely rightfully so because caregivers are doing all the real work," Bruno told Mic.
A year and half in, the company has made quite a splash. It already offers services in New Jersey, Philadelphia, and Manhattan. It also recently nabbed $27.5 million in investor funding in order to expand to eight to 10 new cities during 2016. Bruno is also building a reputation for himself, scoring a spot on Forbes' 30 Under 30 list for entrepreneurs changing the health care industry.
With a growing population of aging baby boomers — there will be an estimated 72 million elders in 2040 — home health aides are going to be increasing valuable. And as millennials grow reliant on a blossoming variety of on-demand apps, Hometeam stands to capture a crucial market: you.