This Thai Commercial for a Skin Lightener Is as Dubious It Gets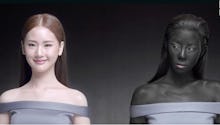 There's nothing subliminal about Thai beauty company Seoul Secret's new ad for skin-whitening pills. 
Set against a dark backdrop, an actress says that without the product, "the whiteness I have invested in will just vanish." Her skin turns black, and she begins to look concerned while her fair-skinned counterpart continues to smile.
"Just being white, you will win," says actress Cris Horwang. "Eternally white, I am confident."
The 50-second spot has incited plenty of criticism. A sociology and anthropology professor at Thailand's Thammasat University, Yukti Mukdawijitra, told CNN that he couldn't believe such an ad is still being broadcast in the country. "Those who look Western, those who are white, those who have bodies that look like Westerners, become preferable — in a way, people in Thailand internalize a colonial attitude into themselves," he said. 
Skin-whitening pills and creams are common in Thailand and other Asian countries, with Fair and Lovely being particularly popular among women in India (for men, it's Fair and Handsome). The product's ads have also drawn outrage. In 2013, a Fair and Handsome ad featuring Bollywood star Shah Rukh Khan prompted a Change.org petition. 
And two years before that, Fair and Lovely ran this ad:
On Friday, Seoul Secret removed its ad from YouTube and issued an apology. According to the Bangkok Post, the statement reads, "Seoul Secret would like to apologize for the mistake and claim full responsibility for this incident. Our company did not have any intention to convey discriminatory or racist messages. What we intended to convey was that self-improvement — in terms of personality, appearance, skills and professionality — is crucial."
The product, unlike the video, remains. And the company's products are wildly popular — if its 607,000 Facebook followers are any indication.  
Watch the commercial below: