Kanye West to Drop New Music From 'Swish' on Friday, Song Possibly Called 'Real Friends'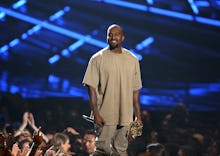 Matt Sayles/AP
According to a tweet late on Thursday (or early Friday, depending your location) from reality television superstar Kim Kardashian, who is married to famed Chicago rapper Kanye West, new music off West's upcoming album may begin to be parceled out to fans every Friday. In a tweet, Kardashian promised fans new music "every Friday" and used the hashtags "Swish" and "RealFriends" to perhaps signal that the song title of West's new single is "Real Friends" from West's seventh studio album, Swish, the release date of which has yet to be officially confirmed. 
As Hot New Hip Hop reported, this isn't the first time Kardashian has announced the arrival of her husband's new material. In December, she tweeted about West's single, "Facts," right before its debut. The artist then followed up by releasing the song on New Year's Eve, following a similar pattern of New Year's Eve debuts. Last year, West quietly released "Only One," which featured rock legend Paul McCartney.
Read more:
Friday leaks are not a new concept for West or for fans of the musicians' work. And, in fact, the artist began the habit in 2010. Back then, MTV reported that West announced the project on Twitter saying, "I know y'all need the music, so I'm dropping 1 new song every weekend until Xmas. It may be my song, it may be a new Jay song, etc."
"Y'all know every Friday y'all gone have a new joint from our family," West added, according to MTV. "We look at the game completely different now. ... It's about the fans. No more holding back. That's why I dropped 'See Me Now.' ... It wasn't about me. It was about the summer, the BBQs, etc."
Reacting to Kardashian's announcement, fans on Twitter were thrilled. 
Despite throwing a bone to fans in the form of singles, the most recent recording and release process has apparently not come without a touch of duress from West, who has seemingly been under a bit of pressure from fans who are hungrily awaiting new material, according to a December tweet from the artist. "No offense to anyone," West wrote on Dec. 13. "I'm asking everyone DON'T ASK ME FOR ANYTHING TILL AFTER I'M FINISHED WITH MY ALBUM." A timeline of scheduled releases may help the artist manage some of the pressure for answers about Swish, and the undertaking will no doubt help fans sit with the unease of an unconfirmed release date. 
Dec. 8, 2015, 9:04 a.m. Eastern: This story has been updated.