This is Why Steven Avery and Brendan Dassey Have No Hope of Being Pardoned by Obama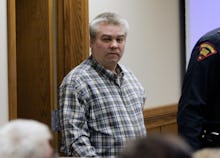 Morry Gash/AP
A White House petition to pardon Wisconsin men Steven Avery and Brendan Dassey — of the Netflix true crime docuseries Making a Murderer — reached its 100,000 signature goal on Wednesday, but the White House responded that President Barack Obama can't help because it's a state crime. 
"Under the Constitution, only federal criminal convictions, such as those adjudicated in the United States District Courts, may be pardoned by the President," the White House's response to the petition reads. "However, the president cannot pardon a state criminal offense."
Read more:
In addition to several other social movements sparked by Making a Murderer, the White House petition asked Obama to grant full pardon to Avery and nephew Dassey for the murder of Teresa Halbach that they're both serving life in prison for and that many who watched the docuseries believe they did not commit. 
The crime was both committed and tried in the state of Wisconsin, making it a state crime. Although the petition reached its goal, the White House is unable to intervene because state crimes lie outside of its statute of power. 
While the president said he can't offer any concrete help, the White House said he's "committed to restoring the sense of fairness at the heart of our justice system," citing the 184 commutations and 66 pardons he's granted while in office.
Making a Murderer sheds light on two criminal cases involving Avery — a sexual assault crime he was wrongfully accused of but served 18 years in prison for and a murder that he's currently serving life for and many viewers believe he was framed for based on case details the documentary reveals. 
Get the five stories that will challenge you to rethink the world by signing up for MicCheck Daily.