Donald Trump Doesn't Want You at His Rallies Unless You're Already Voting for Him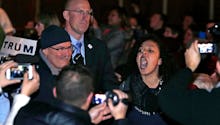 Donald Trump wants to keep his friends close and his enemies away from his events.
After protesters caused a stir at a wildly overbooked Trump rally in Burlington, Vermont, on Thursday night, the Republican presidential frontrunner said people who aren't supporting him or are still on the fence shouldn't attend his rallies.
"We have more than 20,000 people that showed up for 1,400 spots. I'm taking care of my people, not people who don't want to vote for me or are undecided," he said in a statement, according to NBC News. "They are loyal to me, and I am loyal to them."
Trump, who routinely reminds the world that his events draw "yuge" crowds, vowed in a tweet that his event — held just blocks from the 2016 headquarters of Democratic candidate Sen. Bernie Sanders — would be "wild!"
He wasn't wrong about that.
Rally attendees said they were asked at the security check-in whether they supported Trump's White House bid. Many who wouldn't pledge allegiance to The Donald said they were turned away from the Flynn Center of the Performing Arts.
Still, anti-Trump demonstrators managed to get in and make themselves heard. Some chanted "Bernie! Bernie!" while being escorted from the venue, the Associated Press reported.
Trump went from amusement to impatience as the interruptions continued, suggesting security needed to step it up in removing the interlopers — and teach them a bone-chilling lesson.
"Keep his coat! Confiscate his coat! You know it's about 10 degrees below zero outside," Trump said as people were ushered out, according to the AP. "You can keep his coat. Tell him we'll send it to him in a couple of weeks."
While ejecting people who try to shout down candidates is nothing new, pre-primary rallies are typically chances not only for supporters to cheer the candidate, but for undecideds to hear a contender's pitch.
Burlington Mayor Miro Weinberger was decidedly unimpressed with Trump's "love me or leave me alone" approach to the event, which had people lining up well before dawn for a shot at attending.
"Seeing Mr. Trump himself apparently tweeting that they're going to take care of their own tonight, that doesn't sound like the words of a president to me," Weinberger told the Burlington Free Press. "If he were elected president, I'd hope he would understand that he's got a responsibility to all Americans, whether they agree with him or not."
Trump held his Green Mountain State gathering as President Barack Obama held a town hall to field questions on his newly introduced proposals to heighten gun-control restrictions.
Running through a list of recent massacres from California to Paris, Trump told the crowd he'd "get rid of gun-free zones on schools" if elected, saying, "Now, you know what a gun-free zone is to a sicko? That's bait," according to Boston.com.
"And on military bases, my first day it gets signed, OK? My first day. There's no more gun-free zones," he continued, per the Hill.
Trump's hardline rhetoric on guns is yet another example of how he and his primary foes are trying to draw stark contrasts with Obama as they play to GOP base voters. But by making clear Thursday that some people are welcome at his events and others are not, Trump is arguably also crossing his own party, which the same day launched a renewed push for its Republican Leadership Initiative. 
The RLI program is geared at something the GOP has long struggled with: Making newcomers, particularly urban minorities, feel the party has a place for them in a big tent — as opposed to leaving them, literally or figuratively, out in the cold.