Kerry Washington Hopes Her New Film Will Change the Conversation About Sexual Harassment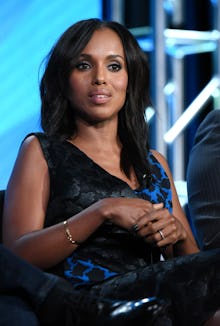 In 1991, law professor Anita Hill forced the country to confront an insidious, under-discussed experience countless American women face daily when she accused U.S. Supreme Court nominee Clarence Thomas of sexual harassment. Although plenty didn't believe and attempted to discredit Hill at the time, many now agree she was a game-changing figure for women's progress.
Portraying her in a film, therefore, is both an honor and immense responsibility — a reality of which actress Kerry Washington, who will play Hill in the upcoming HBO film Confirmation, is well aware.
"I was terrified," Washington recently admitted at the Television Critics Association, Variety reported Thursday. "That responsibility was not lost on me."
Hill had remained silent about Thomas' harassment for years until she was summoned to testify before the Senate Judiciary Committee in the early '90s about his alleged harassment. Although Thomas was the one facing alleged crimes, many agreed Hill appeared to be the one on trial. The Supreme Court justice's former co-worker was required to repeatedly recount explicit details of her experience to a panel of white men, was blamed for not coming forward sooner and was accused by Thomas of conducting a "high-tech lynching." A senator involved in the hearing even later admitted to ThinkProgress that he behaved like a "monster." 
Although the experience "was traumatic," Hill recalled to Newsweek 20 years later, she doesn't harp on her anger but rather focuses on "what my contribution can be, to make sure this doesn't happen to other people. The larger goal is both gender equality and racial equality, because both racism and sexism contributed to my being victimized."
Hill contributed much to the national understanding and awareness of sexual harassment, but the phenomenon is still rampant — especially in the workplace. One 2015 Cosmopolitan study found that one in three women between the ages of 18 and 34 has been sexually harassed at work. Beyond its prevalence, the study also revealed that plenty of women fail to identify the experience as a deeper issue or seek recourse: 16% of women said they experienced sexually explicit or sexist remarks despite reporting that they had not experienced sexual harassment and an incredible 71% admitted they did not report incidents of harassment.
And harassment extends beyond the workplace, too. Sixty-five percent of women in the United States have experienced street harassment, according to a 2014 report by the organization Stop Street Harassment, and do so at young ages. One 2015 survey conducted by the anti-street harassment organization Hollaback! and Cornell University found that 85% of U.S. women experience street harassment before age 17, and 67% of women do so before age 14.
Washington and the team behind Confirmation are well aware of this reality and hope their film will not only honor Hill's legacy, but continue her work.
"Some of the issues are still rearing their head, in terms of gender and in terms of race and how we understand those things," Washington said, according to Variety. "The outcome that happened is that the conversation began and we want to make sure that conversation continues."
h/t Variety