Philadelphia Cop In Stable Condition after Attempted Execution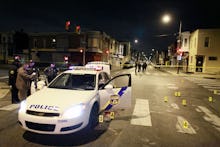 Joseph Kaczmarek/AP
A Philadelphia law enforcement official suffered multiple gun wounds late on Thursday when an armed assailant approached his police car and opened fire 13 times, shooting the officer several times in the arm at close range, the Associated Press reports. The attack happened just before midnight and the officer was in stable condition as of Friday morning and was expected to survive, according to NBC Philadelphia. Police officers apprehended the assailant, according to the AP, and his identity has yet to be released to the public.  
The attack occurred at Spruce and 60th Streets at 11:45 p.m. EST, according to NBC Philadelphia, and the officer has been identified as 33-year-old Officer Jesse Hartnett, who is also a veteran, according to WPVI, Philadelphia's ABC affiliate. During an overnight news conference, video footage of the attack was replayed to the press, to which Police Commissioner Richard Ross reacted by saying, "This is absolutely one of the scariest things I've ever seen," NBC Philadelphia reports. 
"This guy tried to execute the officer. I don't know how this officer survived."
Thursday's attack comes amid a time of widespread discussion about gun violence in America, and trails a public address President Barack Obama made on Tuesday to introduce proposed executive order to redefine gun control in the U.S. Of course, the movement was not met without friction from those who oppose tighter legislation, prompting a heated, nationwide debate on constitutional rights and, specifically, the second amendment. 
Yet on Tuesday, Obama held his ground as he tried to keep his critics at bay and stood firmly behind a need to curb violence in America caused by firearms. 
"I believe in the second amendment, that guarantees a right to bear arms," Obama said on Tuesday. "I believe that we can find ways to reduce gun violence consistent with the second amendment," adding that he believes there exist "ways to reduce gun violence consistent with the second amendment."
Here's a series of photos that show the scene of attack on Thursday: