Amy Schumer's Boyfriend Ben Hanisch Is An Unreal Photographer and His Instagram Proves It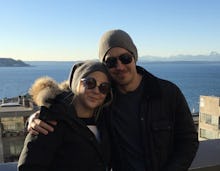 Instagram
Comedian Amy Schumer's new 10/10 boyfriend Ben Hanisch is a handsome custom furniture designer who absolutely adores her — but there's another thing. He's also an incredibly talented scenic photographer and shares his most stunning photographs on his stalk-worthy Instagram account.
A Chicago native, Hanisch regularly photographs unique angles of the windy city that emulate his passion for his hometown (He told Harry's Five O Clock magazine in 2014 that he was "Rekindling [his] love for [Chicago] that [he] kind of lost for a while). He also recently travelled to Guatemala and Hawaii and took his camera along.
Read more:
Here are some of the most impressive images from Hanisch's Instagram:
Chicago
Guatemala
Hawaii
Schumer and Hanisch unofficially confirmed their relationship through several recent tweets and Instagrams of each other. He accompanied Schumer at the White House on Tuesday for President Barack Obama's announcement on executive gun control orders and posted an Instagram of them at the function captioned, "So proud of this babe!!#StopGunViolence." Schumer shut down reports that the two met on dating app Bumble via Twitter Wednesday saying she "prefers the old-fashioned way #prostitution."