Planned Parenthood Just Endorsed Hillary Clinton — Here's Why That's a Big Deal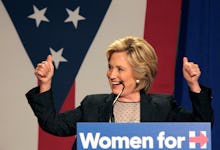 Just three weeks prior to the Iowa caucus, Planned Parenthood officially endorsed 2016 Democratic presidential candidate and former Secretary of State Hillary Clinton, the New York Times reported Thursday. The endorsement is historic, as it is the first time the organization has endorsed a presidential candidate during a primary election season. Clinton will accept the endorsement formally this Sunday at a rally in Manchester, New Hampshire. 
The landscape for women's rights in the United States in 2016 is no doubt bleak. Planned Parenthood faces defunding efforts at both federal and state levels, as well as inflammatory attacks in Ohio and — thoroughly debunked — allegations of a video depicting an aborted fetus being dismembered that caused Republican presidential candidate Carly Fiorina to attack the organization. And, in late November, a Planned Parenthood in Colorado Springs, Colorado, was the site of a shooting. 
The grim political and social climate spurred the organization's endorsement, Planned Parenthood president Cecile Richards told the New York Times.
"Everything Planned Parenthood has believed in and fought for over the past 100 years is on the ballot," Richards said. 
Along with the endorsement, the organization is spending $20 million on its own election program called I Vote Planned Parenthood Action to "leverage ... support into political power at the ballot box," according to a Planned Parenthood news release. Clinton has actively stood with Planned Parenthood in her stump speeches, her website and on Twitter. Given that Planned Parenthood has helped not only women, but also LGBTQ people, senior citizens, teens and men, the endorsement has the potential for a huge impact among voters. 
Given the nature and size of the endorsement, Richards said the process was not taken lightly. Almost every presidential candidate on both sides of the aisle has spoken about Planned Parenthood in the past.  All presidential candidates — Democrat and Republican — received endorsement surveys from Planned Parenthood. Only Democrats responded to the survey and, according to Richards, Clinton's record on women's issues and health care won her the endorsement.
At least one Sanders supporter is unhappy with the decision. Danielle Muscato, a blogger for Sen. Bernie Sanders in Missouri, started a Reddit thread protesting Planned Parenthood's decision, arguing that Sanders is a much better option for the organization's endorsement.
"As a lesbian, I am extremely disappointed that you would support someone who was vocally against my right to marry until mid-2013, considering that Bernie Sanders has publicly supported my rights as a lesbian since 1972," Muscato wrote in an email to Planned Parenthood, which she posted on Reddit. Muscato said she would not be donating to Planned Parenthood and instead diverting those funds to Sanders' political campaign.
Correction: Jan. 8, 2016