Kendrick Lamar Debuts Soulful New Song on 'The Tonight Show Starring Jimmy Fallon'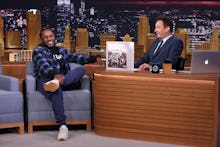 Kendrick Lamar never phones in a late night performance. For each show he's appeared on — The Colbert Report, The Late Show With Steven Colbert, Saturday Night Live — he's either debuted new material or performed a reimagined medley of old favorites. Thursday night, Compton hip-hop's prodigal son continued that streak, premiering a brand new song on The Tonight Show Starring Jimmy Fallon. 
Fallon's show has long been a go-to platform for hip-hop artists looking to share new music. His house band, the legendary Roots crew, is always able to help liven up a dry instrumental. For this performance, though, Lamar brought his own band to back him. Fallon introduced the song simply as "Untitled 2," to distinguish it from the previous untitled song he premiered on the The Colbert Report. 
The uptempo, soulful tune is reminiscent of Lamar's "I," the lead single off his stunning To Pimp a Butterfly. Like many of the lyrics on that album and his previous Good Kid, M.A.A.D. City, it consists largely of character sketches — Lamar's own and others, struggling to make ends meet in a fast-paced world. The song's first breakdown brings out the comparisons to "I" to even starker relief. "I love God/ I love speed/ I love drank/ I love me," he sings. "I love God/ But I'm scared of god speed." 
He then begins building up the intensity of his flows until they're absolutely pouring out of his mouth in perfect triplets for a thunderous finish.
During Lamar's accompanying interview, Fallon brought up the 11 Grammy nominations Lamar received for the upcoming awards, noting that he was one short of Michael Jackson's record of 12 in a single award show. "The legend," Lamar said. "I wouldn't want to go past that though. ... I can't fathom being as great as Michael without putting out the work." 
If he keeps putting out epics like To Pimp a Butterfly and bringing performances like this, he'll be there in no time.
Watch the full performance below: