Martin O'Malley 2016: Latest Polls, News and Updates on Presidential Campaign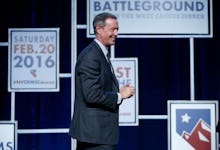 John Locher/AP
Even in a small Democratic field, former Maryland Gov. Martin O'Malley has continued to produce poor polling numbers, trailing far behind Vermont Sen. Bernie Sanders and former Secretary of State Hillary Clinton. Overall, O'Malley has two points among likely Democratic voters, according to the latest NBC News/SurveyMonkey poll released on Tuesday.
In addition to the low numbers, the survey revealed that 8% of voters said they didn't know who they were going to vote for — four times the level of support O'Malley had. Additionally, when asked who their second choice for the Democratic nomination would be, 8% supported O'Malley, compared to 31% for Sanders, 30% for Clinton and 30% said they weren't sure, according to the poll.
Though his numbers are low, Vox's Matthew Yglesias has argued that O'Malley should be a worthy third candidate in the Democratic race as he has established a firm liberal middle ground between Sanders and Clinton. Unfortunately, he's been hindered by — of all things — his experience as governor.
"It seems to be part of a larger 21st-century trend in which presidential politics' historic preference for governors has shifted in favor of senator-centric nomination battles that see Clinton, Sanders, Marco Rubio, and Ted Cruz all rating higher than an O'Malley or a Rick Perry or a Scott Walker," Yglesias wrote.
O'Malley sets his sights on Cruz: Speaking at the "Battle Born/Battleground" caucus dinner on Wednesday — hosted by the Nevada Democratic Party in Las Vegas — O'Malley targeted Texas Sen. Ted Cruz and his recent comments on gun control, criticizing the senator's hypocritical solution to the issue. 
"Cruz actually says that the answer to gun violence is more guns," O'Malley said, according to NBC News. "Senator, the answer to cancer is not more cancer, the answer to poverty is not more poverty, and the answer to gun violence isn't more guns."
O'Malley added that — because of Cruz's ideas around gun control — he is more "outrageous and unqualified" to run for commander in chief than GOP frontrunner Donald Trump, who has his own penchant for controversial statements. 
O'Malley misses Ohio primary write-in deadline: According to the Associated Press, O'Malley has failed to submit his paperwork on time to qualify as a write-in candidate for the Democratic presidential ballot in Ohio. With a Monday afternoon deadline for O'Malley to turn in his paperwork, the former Maryland governor submitted it on Tuesday morning, which lead to Ohio Secretary of State Jon Husted's office rejecting the write-in. 
"We are unable to certify Governor O'Malley as a write-in candidate for the Primary Election because his Declaration of Intent was not received by the statutory deadline," Jack L. Christopher — general counsel in Husted's office — said in a letter obtained by CBS News. 
O'Malley had previously fell short of the signatures needed to appear on the state's March 15 primary ballot, according to the Washington Post, which lead to the write-in campaign. Already with low polling numbers across the board, the setback has continued to hinder the former governor's attempts to gain ground on the leading Democratic candidates.