Here's What Tess Holliday Really Thinks About the Word "Fat"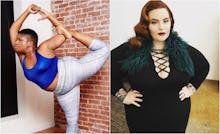 "I love the word 'fat.'"
That's not a common sentiment. For being a very small word, "fat" carries plenty of nasty connotations. But it doesn't have to be that way, according to body-positive activists.
At a panel hosted by Refinery29 on Thursday evening, women at the forefront of the body-positive movement including Tess Holliday, the plus-size model who landed the cover of People, and Jessamyn Stanley, famous for her being a plus-size yoga instructor, spoke about embracing "fat." Spoiler alert: 
They own it.
Sapping a word of its power: Holliday was the one who said she "loves" the word during the panel, which was moderated by Kelsey Miller, the author of Big Girl: How I Gave Up Dieting and Got a Life. In addition to Holliday and Stanley, the panel also included CeCe Olisa, the co-creator of The Curvy Con, and Jordan Younger, the author and blogger behind The Balanced Blonde. 
It's an issue Holliday has talked about before, saying, "I've been called fat my whole life. I am fat, so it's kind of silly to get mad about it," Holliday told ET.com. Of course, she understands why people would hesitate to adopt a word that's been so hurtful. She herself dropped out of high school at 16 after being repeatedly bullied and called "fat." That sort of hurtful stigma persists today, and even the most body-positive people aren't immune to it.
But it's about not giving power to words, because that gives people the power to wield them.
"I just feel like we should just call it what it is instead of trying to sugarcoat it, because then I feel like that helps other people [leverage it negatively]," she said.
Stanley enthusiastically agreed with Holliday, saying that she has no qualms about using the word "fat" to describe herself. She's always referred to herself as a "fat femme," a tagline she uses on her blog and social media accounts. People, though, don't always understand why she chooses to adopt the word.
"'So, why do you call yourself 'fat'?" she said people repeatedly ask. "Like, because I am fat. It's not a question. It's like, if you look up 'fat' in the dictionary, my picture could be next to it." The problem has nothing to do with the word itself, she said. 
"It's like any kind of slur; if you let it offend you, it will offend you," Stanley said. "So if you say, 'I'm fat, I'm comfortable with it, 'then it's fine."
Letting women choose their own words: Of course, it's not fine to a lot of women. The debate of terminology has become a hot one among body-positive activists and regular shoppers who find themselves navigating "plus-size" sections. 
Holliday said that when she calls herself "fat" on her Instagram account, she's flooded with responses encouraging the use of other words like "curvy," or even "fluffy." The impulse is to distance yourself from the term, Stanley said; when women see other women who have a similar body type as them and think, "Well I kind of look like her, does that mean I'm fat?" 
That's where the other, seemingly more positive terms come in. Younger models and users on Tumblr have begun adopting the term "curve" and "curve model" to describe women who fall somewhere in the "in-between" range. The term is also a rejection of the label "plus size," which is applied in the fashion industry to models who are as small as an 8 or 10.
"Plus size" has also had its fair share of detractors, who argue that the term is inherently negative for its "othering" nature. Melissa McCarthy has said the label tells women they're "unworthy," and models like Stefania Ferrario, who are typically classified "plus size," have called for an end to the term altogether. Some ordinary shoppers are stuck somewhere in the middle, unsure whether the term is inherently sexist or shameful.
All of the debate about labels, though, might reflect the ongoing uncertainty and stigma that the public attaches to words. "It is society that attributes meaning to the body, which then opens individuals to categorization and classification. Stigma, therefore, is the reflection of society's views and prejudices," Amanda M. Czerniawski, a sociologist and author of Fashioning Fat: Inside Plus-Size Modeling, previously told Mic in an email.
Said Stanley, "Women can have all those other labels while also owning the term 'fat.'"
"If you give the word power, then it has power," she added. "If you take the power out of it, then it has nothing. So I think it's imperative that you say that word."