Georgia Prosecutors Will Pursue Murder Charges Against Officer Who Killed Anthony Hill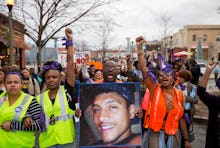 Prosecutors in DeKalb County, Georgia, will pursue murder charges against Robert Olsen, the police officer who shot and killed Anthony Hill — a black U.S. Air Force veteran who was naked, unarmed and having a mental health episode when he was killed — in March 2015, the New York Times reported.
District Attorney Robert D. James Jr. made the announcement at a news conference Thursday. "Our position is that the facts and the circumstances surrounding the shooting death of Anthony Hill warrant a charge for felony murder," he said, according to the Times.
The Washington Post reported Olsen will be the ninth American police officer to face criminal charges for an on-duty shooting that occurred in 2015.
Thursday's announcement stems from an incident that took place at a housing complex in Chamblee, Georgia, which is northeast of Atlanta, last year. Hill, 27, was naked and repeatedly jumping off his two-story balcony when a neighbor called the police, the Times reported in March. 
Olsen, a seven-year veteran of the DeKalb County Police Department, responded to the call, and drew his firearm when Hill allegedly began to approach him. Olsen shot Hill twice, even though witnesses say Hill had his hands raised and was unarmed.
The charges the district attorney plans to bring against Olsen include aggravated assault, two counts of felony murder, two counts of violation of an officer's oath and "making a false statement," the latter stemming from Olsen's claim Hill "charged" at him, the Washington Post reported.
Hill's family members have since said the 27-year-old had both bipolar disorder and post-traumatic stress disorder, both of which were diagnosed after Hill's tour of duty in Afghanistan. "Hopefully they will go forward with indicting the officer," Bridget Anderson, Hill's girlfriend of three years, told CNN in October. "To me this is the most blatant case of police brutality that's out there right now. I just don't see how you could kill a naked man."
The planned indictment against Hill does not guarantee criminal charges, though James has said he will recommend them. Last month, a grand jury in Cleveland, Ohio, declined to file charges against Officer Timothy Loehmann, who fatally shot 12-year-old Tamir Rice, sparking nationwide protests and renewed backlash against patterns of anti-black police violence that have roiled the nation over the past two years.
A grand jury will convene later this month to consider evidence in the Olsen case.