Thanks to This Girl's Beautiful Letter, 'Star Wars' Toys Will Get The Change We've Wanted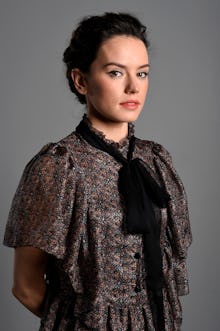 Hasbro is adding a game piece for Star Wars: The Force Awakens female lead character Rey to its Star Wars version of Monopoly after a Chicago woman tweeted her 8-year-old daughter's handwritten — in a strategic spectrum of magic marker shades — letter to the game company asking how they could possibly leave out the very character who the Force "awakens in."
"8-yr-old asks, how could you leave out Rey in SW Monopoly?" Carrie Goldman tweeted with a picture of her daughter Annie Rose's complaint letter on Sunday. "Without [Rey], there is no Force!" the 8-year-old eloquently wrote in her letter to Hasbro. "It awakens in her!"
In response to Annie Rose's letter, Hasbro announced to her on Twitter Tuesday that it will include Rey in the next version of Star Wars Monopoly later in 2016. 
Read more:
Hasbro originally responded to Annie and her mom on Monday apologizing and explaining that the current version of Star Wars Monopoly was released months before The Force Awakens was released, and that they're planning to sell lots of Rey toys and games in the future. The company also pointed out that Rey is included in current versions of games like Hands Down, Chess and Guess Who. 
How does Annie Rose feel about her contribution to the feminist movement? According to her mom, she said, "I never knew that a little kid nobody knows could make a difference." Goldman's original tweet including her daughter's letter was retweeted more than 2,000 times. 
Hasbro explained that Rey wasn't originally included to avoid spoiling the film's plot, CNN reported, but by that time it was highly publicized that Rey would be the lead character, and this isn't the first time a female character was excluded from the shelves, according to Goldman. 
"It is a continuation of a disturbing trend," Goldman told CNN. "My older daughter, now 12, has had a very hard time finding Black Widow merchandise. She is a huge Avengers fan, and we have been very frustrated over the underrepresentation of Black Widow in Avengers toys and clothing."
The Force Awakens surpassed Avatar's $760.5 million box-office earnings on Wednesday, becoming the biggest U.S. movie of all time — and the latest Star Wars installment hit the record in just 20 days.