Radiohead Has Started A New Company and That Means Their New Album Should Be Coming Soon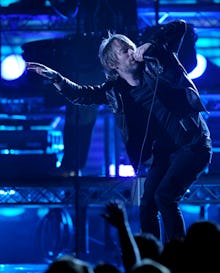 Mark J. Terrill/AP
If past is prologue, fans of indie rock royalty Radiohead may have another album to look forward to in the not-too-distant future. Prior to the release of the British band's last two LPs, The King of Limbs (2011) and In Rainbows (2007), the group debuted two companies, Ticker Tape Ltd. and Xurbia Xendless Ltd. respectively, according to the Verge. Now, the band has erected a company called Dawn Chorus, and longtime fans are leaning in for any whisper about a potential new album on deck.
Fans who grew up on Radiohead's work are of the diehard variety, and many still hold early-aught albums such as Kid A (2000) and Hail to the Thief (2003) in high regard. Therefore, any indication, however small, that the band might be gearing up to release new material refuses to go unnoticed by Radiohead lovers. 
Read more:
In discussing Radiohead's recent actions, a community of observers on Reddit pointed out that the band's measured approach at establishing a company mimics the group's past efforts to promote its upcoming material. "Pack your bags and prepare yourselves guys, the hype train is fast approaching," wrote one Reddit user. "I thought this level of hype would have only been reached months and months from now," added another user. "I'm hyped AS FUCK."
The album would be the ninth from Radiohead, whose members include frontman Thom Yorke, guitarist, percussionist and vocalist Ed O'Brien, percussionist and vocalist Philip Selway, bassist and keyboardist Colin Greenwood and guitarist and keyboardist Jonny Greenwood. The group has been in the business of churning out ambient, experimentalist rock since before the turn of the century, having released their first studio album, Pablo Honey, in 1993.
Last fall, Selway alluded to an album on the horizon, saying that the band had been in the studio and was eager to wrap up production on the material at hand. "We've got quite a busy autumn coming up," Selway said, as reported by NME on Sept. 4, citing the Press Association. "We want to finish a record and that's where we're at. We're just launching ourselves into it."
As Mic previously reported, it could be that some of the band's side projects are delaying Radiohead's ninth LP. For instance, on Oct. 9, a Facebook post from the group helped promote Greenwood's latest endeavor, Junun, an album that was released on Nov. 13, according to iTunes. 
Yet on Jan. 1, and at the dawn of a brand new year, Yorke posted a photo of fireworks to his Twitter account, captioning the post, "The end of hollow words." Many Twitter users took the cryptic post as a promise of a record in 2016. 
Though fans will have to wait patiently for the time being, all signs point to a good chance the band is gearing up to share new material. In the meantime, at least, there exists this music video of Yorke performing dance moves that are both inexplicable and mesmerizing, the effect of which is, inconsequentially, not unlike watching Drake dance in the video for "Hotline Bling."