Americans Agree Serena Williams Is the Best Tennis Player Ever and Top Athlete Playing Now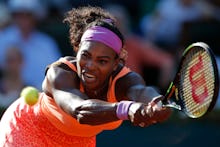 Serena Williams is one of the greatest tennis players of all time. Not only does her record itself demonstrate this, but now so does American public opinion: A recent poll revealed that Americans consider Williams the greatest tennis player ever as well as the fourth-greatest athlete of all time, the Huffington Post reported Thursday.
Although Michael Jordan ranked first, followed by Babe Ruth and Muhammad Ali, Williams impressively rounded out the poll's top four, making her the highest-seeded still-active athlete.
Williams has achieved a number of impressive accomplishments over the course of her career. The athlete has won five single titles at Wimbledon, five double titles with her sister Venus and one mixed doubles title, in addition to holding the record for most aces in a single Wimbledon tournament, according to ESPN. Williams nearly tied Steffi Graf's Grand Slam record this past summer when she competed to win her 22nd major championship. She also has two "Serena Slams" — or winning four Grand Slams in a row — to her name.
Yet despite this success, as one of the most prominent athletes of color in a sport hardly known for its diversity, Williams has also faced discriminatory backlash for years. At the 2001 Indian Wells tournament, for example, Williams faced hostile taunts from spectators during her match. Her father also reported being called racial slurs at the event. Her body in particular has been a central point of public contention: A notorious New York Times piece chose to discuss the athlete's body at length rather than her accomplishments, the athlete has faced countless attacks on social media, and the president of the Russian Tennis Federation even saw fit to comment on her physique.
But Williams has consistently countered such backlash not by stooping to her critics' petty level, but by rising above it.
"I've had people put me down because I didn't look like them — I look stronger," she said while accepting Sports Illustrated's Sportsperson of the Year award. "I've had people look past me because of the color of my skin. I've had people overlook me because I was a woman," she added, before quoting her "favorite poet," Maya Angelou. 
"You may trod with the very dirt but still, like dust, I rise."
h/t Huffington Post