J. Cole Forest Hills Drive Homecoming HBO: Full Preview, Date and How to Watch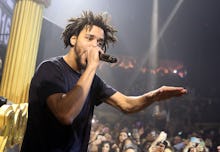 Isaac Brekken/Getty Images
"Role Modelz" rapper J. Cole's HBO documentary J. Cole Forest Hills Drive Homecoming is premiering Saturday and includes cameos from Drake and Jay Z as well as Cole performing his entire 2014 Forest Hills Drive album in his Fayetteville, North Carolina hometown. 
HBO will premiere the hour-and-a-half documentary Saturday at 10 p.m. EST and will tell Cole's life story growing up on Forest Hills Drive and how it influenced his success through narration by Cole, full name Jermaine Lamarr Cole, and interviews with his friends and family, Pitchfork reported.
Read more:
The film and web series were directed by Los Angeles-based Charlotte, North Carolina native Scott Lazer, who directed the music videos for J.Cole's "Apparently" and the "Intro" for 2014 Forest Hills Drive. 
"My dream for Fayetteville is that people here can wake up and realize that anything you want is possible if you want it," J. Cole said in the trailer. Watch the full trailer below:
Leading up to the documentary, HBO released a four-episode mini web series about Cole's massive 2015 year as an artist that "provide intimate access to Cole that was previously unavailable, and they deliver a nuanced look into this talented musician for fans and newcomers alike," according to Culture magazine. 
"I was just glad to be able to catch that period on film, because it was a transformational year for Cole," Lazer told Culture of the web series. "Like he went from doing the Theater at Madison Square Garden on his last tour to selling out the actual Garden in a matter of minutes. So there was clearly a different level for him on this project."