Watch Young Justin Bieber and Girlfriend Hailey Baldwin Awkwardly Meet Years Ago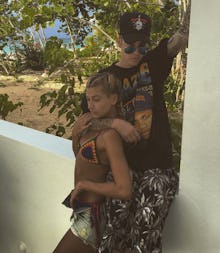 Instagram
Before model Hailey Baldwin was posing alongside boyfriend Justin Bieber in provocative Instagram shots, she was just another young and awkward Belieber. 
A Bieber fan account shared a video of Hailey's dad, actor-producer Stephen Baldwin, introducing his likely 14-year-old daughter to Bieber after a concert in 2009. "This is my daughter Hailey," Baldwin said to Bieber as Hailey meekly extended her hand to Bieber's for a brief and awkward shake. "We've been enjoying your music." 
Twitter user @bieberstrusting originally tweeted the video and Bieber retweeted. "Haha. Amazing," he wrote.
Bieber essentially confirmed he's dating the 19-year-old model in a series of Instagram photos of the two vacationing last week including one of them aggressively making out on an elevated surface. After years of a tumultuous on-again off-again relationship, both Bieber and ex-girlfriend Selena Gomez recently said they're done with each other. 
"I just want her to be happy," Bieber said on the Bert Show. "I love [Selena]. We're friends still. We needed time to grow for ourselves and we were like, 'Maybe we'll come back together in the future,' and then it ended up being so long and we just grew apart and we're not the same people anymore." 
In response to inquiry about Bieber serenading Gomez in a leaked video before the American Music Awards, she told Rolling Stone, "Well, I am sorry, first of all. And honestly, what I would love to be printed is that I am so beyond done with talking about that, and him."
Judging from her provocative "Hands to Myself" music video and Bieber's getaway with his new girlfriend, it looks like they're doing just fine without each other.