Why Nikki Haley's State of the Union Response Is Her Audition for the Vice Presidency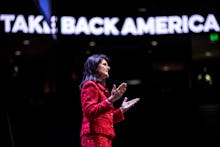 After President Barack Obama delivers his final State of the Union speech on Jan. 12, South Carolina Gov. Nikki Haley will face the nation to respond on behalf of her fellow Republicans. 
With the first votes for Obama's successor just weeks away, the rebuttal comes at critical moment — not just for the GOP, but for Haley herself, whose name is constantly floated as a potential vice presidential pick.
"This is a time of great challenges for our country, but also of great opportunities. I intend to speak about both," Haley said in a statement following her selection by the Republican leaders of the Senate and House.
Haley is the nation's youngest governor and the first woman to hold that job in Palmetto State history. She isn't a household name quite yet, but she has taken some turns in the national spotlight.
She urged calm and unity after a white gunman murdered nine black parishioners at Charleston's storied Emanuel African Methodist Episcopal Church in June. Amid the furor over the racist motivation for the slaying, Haley stepped up in favor of removing the Confederate battle flag, a symbol of hate to many, from the Statehouse grounds. With bipartisan support, she signed a bill to remove the flag the month after the slayings.
Veteran Republican political strategist Ed Rollins told Mic that Haley has the chance with the response speech to make a positive first impression on an electorate that may know little about her.
To insiders, he said, Haley "is a star in this party. She's done some extraordinary things as a governor." To make a bigger splash on Obama's big night, Rollins added, she "has to rebut his remarks carefully and effectively and draw good media reviews."
Treacherous waters: Not every rebuttal gets rave reviews. Louisiana Gov. Bobby Jindal was roundly mocked for a 2009 rebuttal delivery that dogged him with comparisons to Mr. Rogers, courtesy of Jon Stewart, for years to come. 
Jindal has already dropped out of the 2016 race for the GOP nomination, but another SOTU rebuttal pick, Florida Sen. Marco Rubio, is still in the game — and still being clowned for stopping mid-speech to grab a drink of water.
Barring any such gaffes, Haley has a chance to shine, said Joel Goldstein, a Saint Louis University School of Law professor and an expert on the vice presidency.
"Assuming she does well, then I think she brings things to the table that the Republican Party needs," Goldstein told Mic.
In a GOP that's fighting to broaden its appeal to new groups, Haley can check off many boxes. She's female. She's the daughter of Indian immigrants. "She's a new face, so she's not going to be associated with the problems of the past. She's someone who's outside of Washington," Goldstein said. "She's a very sensible choice."
Vice President Haley? If Haley is interested in the vice presidency, which she has unsurprisingly not confessed publicly, she's far from guaranteed the position, which requires extensive vetting. Haley has been the central figure in controversies before, including several alleged extramarital affairs. 
Her administration tried to withhold information from the media on how a hacker got into the state Department of Revenue system, which contains a trove of taxpayers' personal information. And Haley critics questioned whether she'd crossed the church and state line as a government official by promoting a large-scale Christian prayer rally in June 2015.  
Still, a Public Policy Polling survey released Nov. 17 pegged her as one of the country's most popular governors. The poll showed Haley's approval ratings sky-high, with Republicans at 71% and at a solid 53% with independents. The big takeaway: Haley also broke nearly even among Democrats, with 40% saying she's doing a good job compared to 42% who disagreed.
"That's a very unusual amount of crossover support these days," the pollsters noted, attributing the showing to the good will Haley generated among African-American voters by taking a stand against the rebel flag. The same survey, incidentally, showed only 25% of South Carolinians wanted to see her on a Republican presidential ticket, but it wasn't clear if that was due to her popularity, or in spite of it.
"She's an excellent choice to contrast Republican solutions and principles with the failed approach we've seen over the last seven years from President Obama and Hillary Clinton," Republican National Committee spokesman Michael Short told Mic.
Don't be surprised if Democrats grade Haley's rebuttal harshly, Republican pollster and strategist Kellyanne Conway said.
"The klieg lights are blinding, and the scrutiny is often unfunny and unfair," Conway told Mic, referring to those who accept such high-profile speaking spots. "But Gov. Haley has weathered a number of storms and notched a number of successes that deserve notice: She's brought jobs to the state and helped South Carolinians push past hate and heartache after people of faith were murdered in Charleston."
"Given how obsessed the political left is with optics and diversity, it is rich that the Republican response to President Obama's final State of the Union address will be delivered by the nation's first female, Indian-American governor," Conway added. "Expect her political opponents to be nasty, because they certainly are nervous."
Democratic National Committee Chairwoman Debbie Wasserman Schultz didn't wait for Haley's speech to lay into her, deriding the governor's "failed" and "tragic" tenure during a Monday conference call, the Post and Courier reported.
"It's pretty clear that Nikki Haley is being chosen because the Republican Party has a diversity problem," the Hill quoted Wasserman Schultz, a Florida congresswoman, as saying.
Even a slam-dunk rebuttal performance is no guarantee of a shot at the vice presidency, but Haley could bolster — or dent — her prospects in that arena on Tuesday night. 
She can do her party, and perhaps her own political ambitions, a big favor with a cogent critique of Obama's message that entices her listeners, particularly crucial independents, to embrace the GOP vision of the next presidential administration.
But the consequences of a Tuesday night stumble are very real, Goldstein warned, "A bad performance can be devastating."
Correction: Jan. 12, 2016