Motorhead's Lemmy Kilmister's Funeral Is Being Livestreamed: Here's How To Watch Online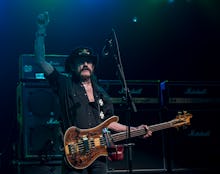 Andrew Patron/MediaPunch/AP
Ian Fraser "Lemmy" Kilmister, frontman of the legendary English rock band Motörhead, died Dec. 28 from an aggressive form of cancer he was diagnosed with two days prior. In an effort to allows fans across the globe to celebrate his life, the remaining members of Motörhead announced Wednesday that his funeral Saturday will be livestreamed on YouTube from Los Angeles. 
"We want you all to be a part of this memorial service," wrote the band, according to the Guardian. "So wherever you are, please get together and watch with fellow Motörheadbangers and friends. Go to your favorite bar, or your favorite club, make sure they have access to an internet connection and toast along with us. Or simply invite your pals around and celebrate Lemm's life at home."
The funeral will stream on YouTube from 6 p.m. to 7:30 p.m. Eastern. The band asks that fans refrain from attending the physical ceremony, the Guardian reported.
The band announced Kilmister's death on Facebook the day of, saying he learned he had the disease on Dec. 26 and died while "sitting in front of his favorite video game from The Rainbow which had recently made its way down the street, with his family."
The band setup a Facebook page in Kilmister's memory for fans to "leave your condolences, well wishes and stories."
"My boyfriend, Denis, saw Motörhead at the Asylum in Portland, Maine back in Oct. 27, 1999," one fan wrote on the page. "He met Lemmy at the bar playing a slot machine. Denis bought him a drink and Lemmy autographed his arm. Denis got Lemmy's signature tattooed the next day."