Carly Fiorina 2016: Latest Polls, News and Updates on Presidential Campaign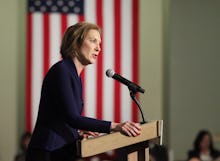 Mary Schwalm/AP
In a packed Republican field, former Hewlett-Packard CEO Carly Fiorina has failed to gain ground on the frontrunners, as she has just three points among likely Republican voters. Meanwhile, real estate mogul Donald Trump leads the field at 35%, according to the most recent NBC News/SurveyMonkey poll released Tuesday.
In the survey — which polled 3,700 participants from Dec. 28 to Jan. 3 — Fiorina does not fare well against her competitors in any metric. Most indicting was that nobody surveyed believed she would win the Republican nomination, while 49% believed the eventual nominee would be Trump.
Fiorina has also struggled to obtain party endorsements, according to FiveThirtyEight's Aaron Bycoffe. Among Republican hopefuls, former Florida Gov. Jeb Bush has the most endorsements, with 46 points based on Bycoffe's metrics system. Fiorina has three, which puts her behind seven GOP contenders as well as South Carolina Sen. Lindsey Graham, who had already dropped out of the race.
Fiorina makes Trump-Kardashian comparison: In the latest back and forth between the two candidates, Fiorina tweeted Tuesday she sees a lot of similarities between Trump and Kim Kardashian West, who Fiorina said is "famous for being famous." 
Trump and Fiorina's most notable clash was during the second Republican debate in September. After Trump had proclaimed before the debate — in reference to her — "Look at that face! Would anyone vote for that? Can you imagine that, the face of our next president?!" Fiorina responded in a concise manner on the debate floor. "I think women all over this country heard very clearly what Mr. Trump said."
Watch the full debate exchange here: 
Fiorina dismisses HP "misfortunes" under her tenure: In an interview with New Hampshire Public Radio on Thursday, Fiorina refuted the idea that HP had "misfortunes" while she was CEO, according to Jezebel. 
"I don't accept your premise that HP had misfortunes," Fiorina said. "I mean yes, we went through difficult times, profits were up, not down. Cash flow was up, not down. Revenue growth rates were up from 1% to 9%. So, Hewlett-Packard was saved in the six years that I was there."
However, Fiorina's tenure at HP has been met with mixed responses from HP co-workers — both current and former — and business pundits, as critics have noted that tens of thousands of employees were laid off while company stock fell around 50%.