Drake's 'Views From The 6' Gets A Cryptic Video Teaser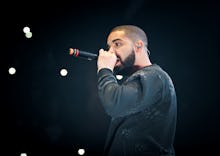 Tibrina Hobson/Getty Images
Beginning late on Thursday, a video making the rounds on Twitter caused enough of a stir to drown out Drake fans' tortured cries calling for the Canadian rapper to release his long-awaited fourth studio album, Views From the 6.  If authentic, the clip would be the latest snippet of audio to surface from the powerhouse rapper that teases the tracks to come on Drake's next LP. At least one user to share the clip to Twitter was ItsBizkit, the Twitter handle for culture and music blog It's BizKit, managed by Derrick "Biz" Lawrence. 
Read more:
If legitimate, it would add to a handful of teasers from Views From the 6 that fans have been privy to thus far. However, the other two samplings that are suspected to be authentic clips off Drake's upcoming LP were shared by the musician himself via his Vine account. The first post surfaced on Nov. 19, followed by another short sample posted to Vine on Dec. 18. Both posts were captioned "Views."
Then, during a performance on New Year's Eve in Miami, an enthused Drake addressed fans with the promise that the record is "coming very soon." Footage of the moment was also shared to Drake's Vine account. 
In an attempt to verify the legitimacy of the video posted to Twitter and trace its origin, Mic contacted It's BizKit's founder, Lawrence, who said the clip was "something that leaked," though he couldn't say from where exactly. Though Lawrence may or may not have the industry connections that afford access to that kind of sensitive material, the publication's some 33,000 followers suggest there's a community that cares what Lawrence and his team of five writers on It's BizKit have to say.
"Views is going to break the internet in half once it drops," Lawrence told Mic. "Drake is Drake. It's going to break the internet worse than when Kim Kardashian released her last set of photos."
When asked to comment on the rumors and speculation that Drake's upcoming record will be released on Jan. 16, Lawrence was hesitant.
"Thats what everybody is talking about," he said. "Only time will tell," he said, suggesting that when the album does finally arrive, "It's definitely going to be something different." 
And in the event the clip is legitimate, here's what can be made out of the lyrics, which ends appropriately enough considering how hungry fans are for more Drake: "Must remember waking up in Paris with the blunt / Must remember fucking me like anytime you want / What made us want to act like we been married for two weeks / now we back in California where we don't even speak / That's annoy--"