Kanye West Drops New Song "Real Friends" to Relaunch G.O.O.D Fridays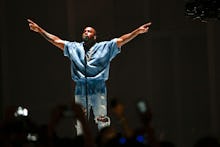 Julio Cortez/AP
As predicted by his wife Kim Kardashian via Twitter on Thursday night, Kanye West released a single off his upcoming album, Swish, on Friday. The release is reportedly part of West's G.O.O.D Fridays revival, an effort from West which aims to appease his fans with material, and a habit that dates back to 2010. West's new single, "Real Friends," was briefly uploaded to Soundcloud and quickly rescinded.
West explained the fumble on Twitter, saying distortion in the track's sound necessitated a repost. 
Read more:
Shortly thereafter, West reposted the audio of "Real Friends," which features Ty Dolla $ign, as a homepage takeover on his web site. He announced that in another tweet along with a note to fans to "have a nice weekend." Head here to hear West's latest single. 
Kardashian announced the news of West's forthcoming release via Twitter late on Thursday saying, "New Music!!! #EveryFriday #Swish #RealFriends."
And the good news continues. West threw fans more than one bone on Friday, as the recording of "Real Friends" also includes a small preview of a separate single called "No More Parties in LA," which is tacked on to the end of the track. 
Music blog Pigeons and Planes reported that, in a tweet, Kanye took credit for the production work on "Real Friends," and that Canadian record producers Frank Dukes and Boi 1da worked on the sample. American rapper and producer Havoc contributed to the track's percussion programming. According to the track's credits, "No More Parties in LA" features Kendrick Lamar.
"Real Friends produced by me/sample by Frank Dukes and Boy 1da/drum programming by Havoc," West wrote in a tweet posted at 12:59 p.m. Eastern on Friday, according to Pigeons and Planes. "No More Parties in LA featuring Kendrick Lamar intro produced by me/track by Madlin," West continued. Both tweets were seemingly deleted and then reposted at 3:13 p.m.
Friday was a big day for West. His single release coincided with an announcement from the event organizers of Governors Ball Music Festival, in which they released the 2016 festival lineup, naming West as the festival's headlining act. 
Jan 8, 2016, 4:38 p.m. Eastern: This story has been updated.