This Foundation Gave Kids in a Nairobi Slum Cameras, and the Resulting Photos Are Stunning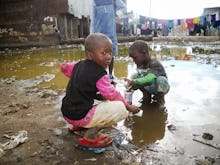 The Mathare slums of Nairobi, Kenya, are some of the worst and most densely populated in the world.
But Eric Omwanda, a Mathare native, wants to change the status quo. He helped start up the Mathare Foundation, dedicated to helping local children through soccer, photography and the performing arts.
"The program provides role models in the slums," Omwanda told Mic. "Another thing it gives them is skills and then they can use those skills to look for employment. It also reduces crime rates in the slums."
According to a 2013 study from the University of Pretoria in South Africa, "Sub-Saharan Africa hosts the highest number of urban slum households in the world with an estimated 60% to 70% of urban residents living in slums. Kenya belongs to this region and has large informal settlements with dire socio-economic conditions."
Omwanda said the photography program is built around daily life and conditions on the ground in Mathare, so it's a more visceral and connected experience for the children. 
"We teach in three stages: theory, where they learn about the basics like the f-stop and exposure; practical, where they learn how to handle the cameras; and fieldwork, where they go out and shoot," he told CNN. 
"We find some of them are [from] a single-parent home or some are orphans," Omwanda told Mic. For many of these children, he said, the Mathane Foundation is the only source of stability.
Omwanda was a finalist for Commonwealth Africa Region Youth Worker of the Year for his work with the foundation, CNN reported. He has no intention of stopping, either. Omwanda recently helped launch an Indiegogo campaign to raise money for the Slum Kids Festival, which "celebrates the achievements of 1000+ kids from Mathare ... in the fields of photography, performing arts and sports."
"It's my community, my life, my responsibility," Omwanda said. 
Ranging from the intimate to the adorable to the heartbreaking, these are some of the shots that have emerged from the program.
Learn more about the Mathare Foundation here: