Amandla Stenberg Came Out as Bisexual While Taking Over Teen Vogue's Snapchat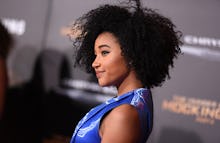 Actress Amandla Stenberg made a simple declaration Thursday night. 
"I cannot stress enough how important representation is ... It's a really really hard thing to be silenced and it's deeply bruising to fight against your identity and to mold yourself into shapes that you just shouldn't be in," she said. "As someone who identifies as a black, bisexual woman, I've been through it and it hurts and it's awkward and it's uncomfortable." 
Stenberg commented that other proud black women in her life helped her be true to herself. She specifically called out Solange Knowles, who interviewed Stenberg for the February cover of Teen Vogue, as well as director Ava DuVernay and musician Willow Smith. 
Stenberg took over the magazine's Snapchat account in concert with the release of her cover issue, in which she spoke with Solange about why she loves her natural black hair. Given her ability to embrace bisexuality and her blackness, Stenberg has made a habit of showing the world exactly who she is. 
At only 13, Stenberg fired back at people who were upset that she had been cast as Rue — a black character — in the film The Hunger Games, and last year, she spoke openly about cultural appropriation when Kylie Jenner shared a photo sporting cornrows on Instagram. 
Amandla shared the video on her personal Tumblr. You can watch it below: