9 Movies Coming Out in 2016 That We Can't Wait to See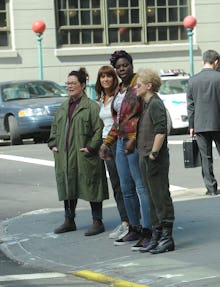 Bobby Bank/Getty Images
The film industry was graced with terrific and ambitious movies that encompassed several genres in 2015, with one of the most anticipated movies of all time in Star Wars: The Force Awakens ending the year on a nostalgic note. However, with a new year comes a new slate of films set to hit theaters in the coming months — and there's a whole lot to look forward to.
Hail, Caesar! (Feb. 5) 
The Coen brothers have nailed several proverbial home runs in the industry, though their most recent trip to the director's chair was back in 2013 with the character-driven Inside Llewyn Davis. Hail, Caesar! will likely take a less somber tone, as it features a 1950s movie star (George Clooney, naturally) at the center of a campy kidnapping. 
Deadpool (Feb. 12)
The idea of a Deadpool film has actually been on the table for over a decade, and Ryan Reynolds has always been pegged as the ideal actor for the ever-talkative mercenary. In February, the film will finally hit screens, and the Red Band trailers have shown that 20th Century Fox isn't afraid to break the fourth wall — a staple in Deadpool comics — and keep its R-rated, NSFW flair. 
The Witch (Feb. 26)
2015 had one of the best indie horror films of the 2000s in It Follows, a welcome sign in a genre that creates so many disappointments. Thankfully, if the trailer and reviews are any indication, The Witch will follow a similar path to success and creepiness when it receives a wide release in the U.S. next month. 
Captain America: Civil War (May 6) 
Though any Marvel movie is rightfully considered a blockbuster, Captain America: Civil War looks promising because it will scale down the stakes. While Avengers: Age of Ultron dealt with the fate of the entire world — much like the first Avengers film — Civil War will instead focus on the complex relationship between the Cap and Tony Stark, one that doesn't leave expectations for a quintessential, happy superhero ending. 
The BFG (July 1)
Steven Spielberg hasn't directed a family-centric film since 2011, when he worked on The Adventures of Tintin: The Secret of the Unicorn, based on the Belgian comic series by Hergé. Now, Spielberg will again use a written work for source material with the film adaptation of Roald Dahl's children's book, The BFG. Though the initial trailer is limited in its scope, the film looks like it could be another success for the acclaimed director. 
Ghostbusters (July 15)
When the news that an all-female reboot of the '80s classic was in the works, Kristen Wiig and company received a lot of unnecessary, misogynistic backlash. However, the incredibly talented Ghostbusters cast more than makes up for any reboot concerns, as it will feature SNL favorite Kate McKinnon, Melissa McCarthy, Leslie Jones and even Chris Hemsworth as a secretary named Kevin. Thrown in Paul Feig as director — whose successful works includes Spy and Bridesmaids — and there's a lot of potential here, even without a trailer. 
Suicide Squad (Aug. 5)
While Batman v Superman: Dawn of Justice should earn plenty of attention and box office sales for DC Comics, Suicide Squad will be a less-conventional approach for the company, which has failed to create any compelling movies outside of Christopher Nolan's Dark Knight trilogy. It likely won't be able to go as far with its violence and dark humor as Deadpool, but Suicide Squad will nonetheless be a welcome respite in the superhero genre by instead focusing on the villains. 
Rogue One: A Star Wars Story (Dec. 16) 
The dust hasn't even come close to settling — as The Force Awakens continues to break box office records — but fans clamoring for more from a galaxy far, far away have Rogue One: A Star Wars Story to look forward to in December. The first of three anthology films in the ever-growing Star Wars franchise, Rogue One will follow a group of rebels who attempt to steal plans for the original Death Star. 
The Neon Demon (TBD)
Not much is known about Danish director Nicolas Winding Refn's latest project, The Neon Demon, but his résumé, which includes the highly acclaimed Pusher series, Drive and Bronson, gives fans plenty of be excited about. Variety reported that Amazon Studios picked up the film in November 2015, but will also be releasing it in theaters. Though a release date for the film has yet to be announced, IMDb provides a brief and interesting synopsis for the film, which will star Keanu Reeves, Elle Fanning and Jena Malone.