Lena Dunham Is Commandeering Hillary Clinton's Instagram Account Because Youth!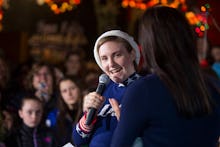 Are you a Millennial voter whose still on the fence about the presidential primaries? Hillary Clinton wants you!
From "Yaaas, Hillary" T-shirts to The Force Awakens gifs, Hillary Clinton's campaign has made it clear they're after Americas young and hip. For those who would have a hard time imagining the word "yaaas" coming out of Clinton's mouth, there is writer and actress Lena Dunham to consider.
On Friday, Dunham took over Clinton's Instagram for the day. She kicked it off with this post: 
In the caption, Dunham used the hashtag #Imwithher, which has become one of Clinton's campaign slogans. Dunham has been stumping for Clinton alongside former U.S. women's national soccer team captain Abby Wambach. 
Dunham would also like you to know that her dress if from All Knitwear.
Dunham interviewed Clinton for the first installation of her email newsletter, Lenny Letter. Clinton told Dunham, "I'm a feminist, and I say it whenever I'm asked." 
This is all well and good, but let's be serious — how long do we have to wait until we get to see Hillary dabbin'? Stay tuned!