People Are Sending Starving Syrians Pictures of Their Lavish Meals on Social Media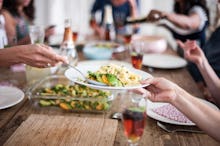 Earlier this week, video of the starving residents of Madaya, Syria, shed light on the town's near-quarantine from the rest of the country. Currently under a months-long siege by Syrian President Bashar al-Assad's forces, the town has experienced 23 deaths due to starvation, six of those cases in children yet to reach their first birthday, the New York Times reports. 
Now, people who support the president's siege forces are using social media to taunt residents of the small town with pictures of their lavish meals. The hashtag, written in Arabic, means "solidarity with the siege of Madaya." 
Due to the siege, Madaya relies on food deliveries to stay nourished; the Washington Post reports the last shipment of food occurred in October, over two months ago. According to the Post, starvation is a normal tactic in the Syrian conflict, but this case has stretched that tactic to the extremes. 
On Thursday, the United Nations' World Food Program received word that they would be allowed to start sending aid to the malnourished Syrians. In their coverage, the Independent included Al-Jazeera footage of people starving in Madaya, including a boy who told the camera that he hadn't eaten in seven days. 
The social media photos literally add insult to injury in a town that is already undergoing a humanitarian disaster. 
"Madaya is not on the verge of a humanitarian catastrophe; it is already a humanitarian catastrophe," a health worker in Madaya told the Guardian. "The view on the street is frightening, frightening. We know that people think we are exaggerating, but believe me, it is worse than any exaggeration." 
h/t The Independent