Should This Town Keep Its Seal That Depicts a White Man Strangling a Native American?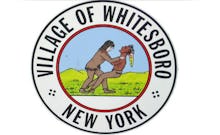 Come Monday, residents of the upstate New York village of Whitesboro, about an hour east of Syracuse, will vote as to whether the town seal should change, Courthouse News reports. Currently, the seal depicts two men in a struggle: A white man with his hands seemingly on the shoulders and neck of a stereotypical feather-in-hair Native American, with the Native American being toppled to the ground, apparently shouting in pain. 
According to Courthouse News, the town's 3,000 residents received postcards from local government alerting them to the vote after the town's seal received national attention on social media for its depiction of violence against Native Americans. During the summer, as controversy raged over the South's embrace of the Confederate battle flag, Whitesboro came under scrutiny for flying their flag. 
Whitesboro clerk Dana Nimey-Olney told Courthouse News that the nationwide controversy meant "it was time to put it to the residents." According to Nimey-Olney, the seal has actually changed over time. It used to depict the white man's hands on the Native American's throat, rather than his shoulders. 
Voters will choose the seal's next design from between eight and 10 options, though it is unclear whether the current image is one of the options. However, Nimey-Olney did say she's received phone calls indicating support for the image. 
"But for some reason people still want to say it looks like the Native American is being choked even though the hands are on the shoulders not the neck," Nimey-Olney told Courthouse News.
According to Courthouse News, the town takes its name from European settler Hugh White. According to City-data.com, Whitesboro's population is over 94% white, and only 5 of its 3,735 residents identify as solely Native American.