How to Access the 6 Best Hidden Genres on Netflix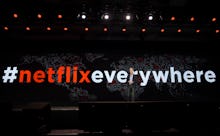 Ethan Miller/Getty Images
Netflix users have found a new way to spice up their "Netflix and chill" experience: secret codes. What's on Netflix has compiled a neat list of all of the hidden genres available on the movie streaming platform. To access the hidden Easter eggs, the Netflix subscriber must be logged into a computer. Hand-held devices will not work for this particular life hack. 
The key is to change the URL number. For example, if the URL is www.netflix.com/browse/genre/5764, the 5764 number is the secret code. Changing the number at the end of the URL can bring up genres such as '"Period Pieces," or "Spy Action & Adventure."
Read more:
Although there is an extensive list of movies to find, here are the six best-hidden genres: 1402 - Late night comedies, 9584 - Spy action & adventure, 6384 - Tearjerkers, 26 - Mockumentaries, 7687 - Film noir, and 32473 - Classic foreign movies.
Due to the hidden nature of the secret codes, some content may not work as Netflix is always updating and revamping its movie selection. That means new categories pop up all the time, as some categories are removed. But these secret codes are a fun way to enhance your online movie experience. 
The secret codes are available to all Netflix regions.